It's that time of the year when everyone is planning their winter getaway.  When you need to recover from stress, freezing temperatures in Philadelphia, or something stronger, head for the arid climes of California, Utah or Arizona.  I went ahead and did a little research for you.  Here are my top picks for Desert Spa Retreats!
Two Bunches Palms
Located in Desert Hot Springs, California the vibe here is ultra private, 1920's era romantic weekender's hideaway.  There is a gorgeous tree shaded grotto to the yoga dome, fitness center, and glass walled restaurant.
Photo Cred
Sheltered by ancient palms and giant tamarisk trees, the rooms and suites are thoughtfully situated amidst 72 acres of desert landscape. Offering a unique Desert Hot Springs experience, guests can take refuge in the serene surroundings, while enjoying the comfort and amenities of the guest rooms.
Photo Cred
Photo Cred
From the historic spa and popular outdoor treatment gazebos, there are moments everywhere to enjoy relaxing therapies at Two Bunch.  Midnight soaks in the heated mineral pools attracted me as well as the adjacent mud bath.  
Photo Cred
Red Mountain Resort
Located in St. George, Utah the vibe at Red is a go at your own speed adventure retreat with a holistic, slightly granola focus on inner wellness such as nutritional coaching and energy assessments plus bad-ass activities such as cayoneering (the exploration of a canyon from point A to point B using a range of techniques that include hiking, scrambling, sliding, stemming, chimneying and rappelling) and horseback riding.  All vacations include accommodations, daily guided hikes, bike rentals, three healthy meals daily, fitness classes, cooking demonstrations, healthy life classes and events, personal discovery activities, and WiFi.
Photo Cred
Red Mountain Resort has everything you need to relax, renew and rediscover your passion for adventure. As one of the most ideally located resorts in St. George, Utah, Red Mountain Resort allows for customized adventures to Zion or Bryce Canyon National Parks, while Snow Canyon State Park is only about a quarter of a mile down the road. Be as active or relaxed, social or private, as you wish at this top choice in Utah resorts.  Sessions with a shaman caught my eye as well as the wine-based Mojito!
Photo Cred
Mii Amo
Located in Sedona, Arizona this unfussy boutique spa with just 16 adobe style rooms is framed by Sedona's red rocks.  Offerings are grounded in Native American rituals.  Hikes to the "Vortex" energy center, and top notch organic cuisine piqued my interest.  Mii amo, which means "journey" in a Native American language, focuses on one's "personal journey to health and wellness." There are only sixteen spa casitas and suites, so spots book up quickly. Visitors choose among five journeys: healthy lifestyle, rejuvenation, de-stress, spiritual exploration and ayurvedic balance. Multitaskers can create their own experience, combining elements of multiple journeys. Each program includes accommodations, meals, classes and two sixty- or ninety-minute treatments a day, as well as a Mii amo robe and daily "gifts."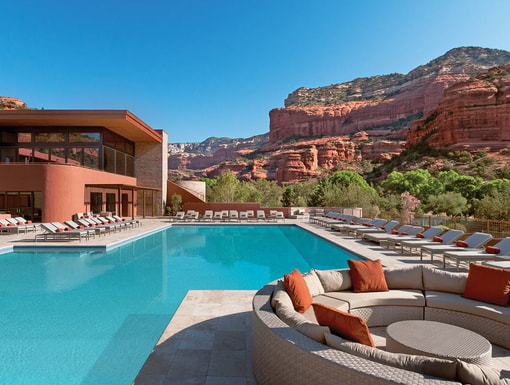 Photo Cred
Photo Cred
The interior design of the public rooms and casitas merges a southwest aesthetic with minimalist furniture for a sleek Santa Fe soothing atmosphere. The design philosophy, which can seem sleek to the point of sterile at first, emphasizes the outdoors and a purposeful simplicity, so one focuses not on extreme luxury or comfort but the beauty of the surrounding nature and the contemplation of one's journey. Rooms are not monastic cells exactly but their sparseness is intentional.
Photo Cred
Miraval
Located in Tucson, Arizona, there are 400 aces of sweeping Sonoran desert-scape in the Santa Catalina foothills.  The vibe here is a chilled out spa as you want format with pedigree and serious beauty amenities including the sleek Life in Balance Spa with Clarins.  There are over 90 classes and workshops per week, and exclusive treatments.  It is a place where nurturing specialists curate imaginative experiences to ignite your inner spark and help you create balance in your life.
Photo Cred
Whether you are a party of two, twenty or more, the unique modular interior design of the elegant living spaces offers a one-of-a-kind combination of privacy, community and luxury.
Photo Cred
Canyon Ranch
Located in Tuscon, Arizona the vibe here is rooted in traditional ranch style luxury camp.  With postcard worthy mountain views and spa menus that offer everything from medical workups to yoga and art classes Canyon redefined health by unifying mind, body and spirit..  I was really interested in the Spiritual Wellness Center with Zen garden and craft workshops, and the Primitive Outdoor Skills course! Now is the time to visit Canyon because they are celebrating their 40 year anniversary.
Photo Cred
With stunning views of the mountains and desert birds singing outside, the interior design at Canyon Ranch Wellness Resort – Tucson will be a serene haven where you can relax and reflect. You'll enjoy original art, décor inspired by the colors of the Southwest and supreme comfort.
Photo Cred
I hope you enjoyed my review of Desert Spa Retreats!  Drop me a note below if you enjoyed it!
In addition to being a Philadelphia Interior Designer for the residential community, we also design boutique hotels, fitness centers, office spaces, multi family development projects, other commercial spaces such as retail spaces, and the senior living community throughout the tri state area.  We work here in Philadelphia, the main line, and even Nationally!  If you enjoyed reading this piece please leave a comment and let us know.  AND, let's get social.  Follow us on Instagram, Facebook, Twitter and connect on LinkedIn!
About our Founder
Tina Delia, a native of Ocean County, NJ, current resident of Philadelphia, is the Founder and Principal Interior Designer of Delia Designs. For the past nine years, Tina has been steadfast in her vision and continues to develop herself personally and professionally. She is dedicated to excellence and insistence on forward thinking design.
At the forefront of her designs is the idea that our spaces have the ability to transform our lives.  She is looking to move us, inspire us to see, think and create freely.  After all, it's not only about creating beautiful spaces, it's about touching the lives of the people who live, work and walk through those spaces.
About the Intern
Eleni Palamidis, a native to Philadelphia, is currently a student at Community College of Philadelphia and will be transferring to Moore College of Art and Design in the Fall. She has always had a passion for interior design and creative ventures. While at Moore she will be pursuing a major in Interior Design with a minor in Graphic Design and Business.
Growing up in the Greek community has shaped Eleni to be the person she is today.   She has been fortunate enough to have visited many of the islands in Greece, to which she credits her love for Architecture. Eleni hopes to one day open her own Interior Design studio and continue to do what she loves.