Up on the blog this week, it's all about the closet.  Specifically I'm going to address some interior design tips to help you maximize your small closet space.  Can anyone else relate?  Same, even if I do often find myself thinking I have nothing to wear while staring at a closet stuffed to the brim with clothing!  The truth of the matter is that the smaller the closet, the more difficult it is to stay organized. But, there are tons of organizational tools and styling tricks that can help. Instead of cutting your wardrobe in half, use these small closet ideas to create twice as much space as you had before.
Photo Cred Pinterest
The Purge
Now while I said you didn't  have to cut your wardrobe in half, it is important to only keep what you love and use.  Like it or not, when you have limited closet space, the first thing you want to do is to go through and get rid of the clothes, shoes and accessories that you're not loving or using.  You will also want to donate or sell anything that is ill-fitting, uncomfortable or clothing you haven't worn in over a year.  Shoes that are uncomfortable are perfect to let go of.  I personally don't have time for uncomfortable shoes especially after my foot surgery last year.  If you have duplicate items, for example several white button downs, just keep your favorites and donate the rest.  Make a plan and decide who will get the castoffs, whether it's to a friend, favorite charity, homeless shelter, or local do-gooder thrift shop. If you have some nicer pieces, consider selling to a second hand shop or on Poshmark or similar service.  Anything that you have spent a lot of money on are good candidates to resell, especially purses or backpacks that you never use.
LINK TO GUIDE
Level up
Ok, so before you start to reorganize your pared down wardrobe, assess the space in your closet and ensure that you are maximizing your space vertically.  Is there room for another shelf?  Can you add another hanging bar?  Doubling up your closet space is as easy as hanging up another bar or an additional shelf.
Photo Cred Pinterest
Closet space savers
Once you have ensured that you are capitalizing all of the space you have, you need to think about how to save that precious real estate.  Tops can take up a lot of hanging space in your closet.  These hangers are really awesome and take up only a fraction of the space because they hang multiple pieces vertically.  Tip:  Hang similar items together for easier access.
Photo Cred Pinterest

The same goes for pants.  Using a hanging system like this frees up drawer space and interior closet space.
Photo Cred Pinterest
Shoe storage
Once you have your hanging pieces under control, we need to tackle shoes. If you have room under your bed, this is a good place to store some of your less used shoes. Can you believe this organizer is an IKEA kitchen cabinet door? Add wheels so you can push it deep under the bed, then pull it out with ease when you need to grab your Saturday-errand shoes and go.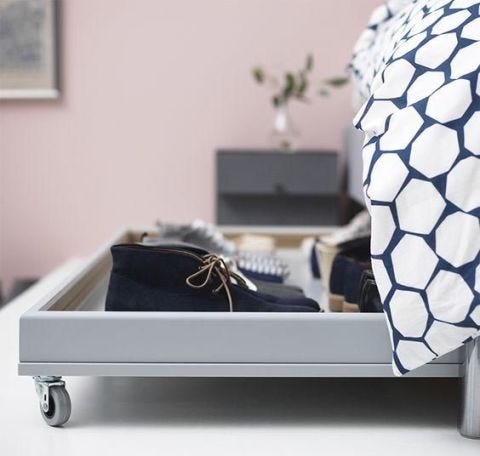 Photo Cred Pinterest
Another way to tackle shoe storage is with an over the door organizer like this.  
Photo Cred Pinterest

If you have a small walk in closet, you probably have one wall that doesn't have a clothing bar and it otherwise under utilized.  This is a perfect space for a rolling shoe rack like this.  Depending on the size of the wall, you could get up to 50 pairs of shoes organized.
Photo Cred Pinterest
Store suitcases in the space above the closet door.
Another brilliant use of space is for hanging suitcases in the otherwise wasted space inside the closet and above the door. You can hang them from hooks, or mount an inexpensive shelf for them to sit on. Lightweight out-of-season items can be stashed in the suitcases — just don't forget they're there!
Photo Cred Pinterest
Don't fight the Architecture
One of the first concepts we learn as interior designers is not to fight the architecture of the space.  You shouldn't either.  There are only so many ways to maximize a small closet.  Once you have taken advantage of all of those ways, you need to think outside the closet.  If you have wall room somewhere in the house, it could even be in your bedroom, think about supplementing your closet space with a wardrobe.  My bedroom just happens to have the perfect space for one of these so I took advantage.  It could be a space that you would otherwise use a dresser.  Opting for a wardrobe with mirrored doors will make your space feel bigger too.
Photo Cred Pinterest
  
Alternatively, depending on your style, get a clothing rack.  It can become a display piece to hang all of your favorite seasonal items.



Photo Cred Pinterest
Let's face it, there's never enough storage. Whether you live in a tiny apartment here in Philadelphia or a sprawling estate, we homeowners always seem to complain about the closets—their disappointing scarcity and frustratingly small size. Basically, we're all engaged in an endless battle to fit ever more stuff into little space.  
I hope that you enjoyed this post and it encourages you to organize your closet with some of these space saving techniques.  And hey, let's get social.  Follow us on Instagram, Facebook, Twitter, YouTube and connect on LinkedIn! Each day I will post follow up thoughts from the latest blog post to give you more inspiration.  AND, please leave me a comment below and let me know what you thought of this post!
In addition to being a Philadelphia Residential Interior Designer,  I also design boutique hotels, fitness centers, office spaces, multi family development projects, other commercial spaces such as office and retail spaces, and the senior living community throughout the tri state area.  We work here in Philadelphia, the main line, and even Nationally! 
About the Interior Designer
Tina Delia, a native of Ocean County, NJ, current resident of Philadelphia, is the Founder and Principal Interior Designer of Delia Designs. For the past nine years, Tina has been steadfast in her vision and continues to develop herself personally and professionally. She is dedicated to excellence and insistence on forward thinking design. At the forefront of her designs is the idea that our spaces have the ability to transform our lives.  She is looking to move us, inspire us to see, think and create freely.  After all, it's not only about creating beautiful spaces.