This week on the blog we are talking about maximizing the interior design of your Loft space. Loft living has been all the hype in recent years and continues to maintain it's allure. In particular, loft apartments have become very popular here in Philadelphia.  New buildings with loft style living are constantly surfacing in the city by popular demand. As amazing as Loft Living sounds, the down side that deters people from this living situation is the limited space.  However, after reading the tips below you'll be able to maximize the most out of your space and will end up with more room than you've always imagined.
Cohesive Color Scheme
When you can see your entire living space in one sweep of the eye, using colors that all work together in harmony is key. This is a very basic interior design principle.  There is something about looking at a space where the colors are in harmony that makes the entire space feel more neat, clean and pulled together. If you don't have much natural light, go for lighter colors for walls and flooring.  This will create the illusion of a larger space.  The lighter colors also allow for more reflection in the space, which will give a brighter and more vibrant feel!
Area Rugs
Using area rugs to define space is one of the oldest tips in the book, but it is worth repeating every time because it works. One of the most common mistakes we interior designers see is the use of area rugs that are too small for the space. Ideally, choose rugs large enough for all of the furniture in the arrangement to sit on top of it. This will create a boundary and separation from each designated space. Don't be afraid to mix in textures and various patterns.  Although the idea is for your space to be cohesive, varying the colors and patterns can help distinguish a change in spaces.
Open Back Shelving
One of the easiest ways to create a room-within-a-room is to utilize open-backed shelving placed perpendicular to the wall — and it works equally well in small and large spaces. The trick to this design aesthetic is to arrange the shelving to look good from both sides. Stack books horizontally versus vertically from size order so from both sides the books will look the same.
Another interior design tip is to buy baskets that are mostly circular so again, from both sides the accessories look the same but also is cohesive and clean looking. Lastly, a design tool I like to use in my own room is to coordinate accessories with my color scheme. For example, my walls are a muted lilac color and when I shop for candles or even vases I try to find ones that match my rooms color scheme of: black, white and lilac. This is another way to create that clean and elegant look and when you include too many colors in a room, it may throw it off.
Lighting
Lighting plays a major role in the interior design aesthetic of any space, so why not manipulate it to your advantage in your loft. Utilize lighting at different heights. To create a more intimate and personal space use pendant lighting lower over your dining room/kitchen table and your seating areas. This will create a more inclusive feel so your guests will for sure feel comfortable.
Build Up, Not Out
Because there isn't an abundance of space as is in a loft, building vertically rather than horizontally will play into your favor. So, purchase narrow and lean pieces. If you're able to use wall space for storage, do it! Floor space is a rare commodity in the loft. 
Another space saver is, instead of purchasing a coat rack, use hooks on the wall so floor space is spared. Personally I prefer hooked coat racks on the wall rather than a floor standing one anyway because it creates more of an organized look and you won't over stuff because you're limited to only a few hooks.  This helps create the illusion of a more streamlined interior look.
Furniture Scale
Appropriately scaled furniture can make the difference between a space that feels awkward and one that feels comfortable and homey. In a small space, select the largest pieces you can while still being able to move freely in your space without bumping into anything. I understand the desire to try and go smaller because you're limited to so much room, however trying to size down in furniture will only make you feel uncomfortable and awkward. Most sofas and loveseats on the market today are over sized and over compensate the idea of "comfy" so just try to find a happy medium and try to find your own scale. If you're comfortable in it, and fits the desired amount of people on it, then it's perfect for you.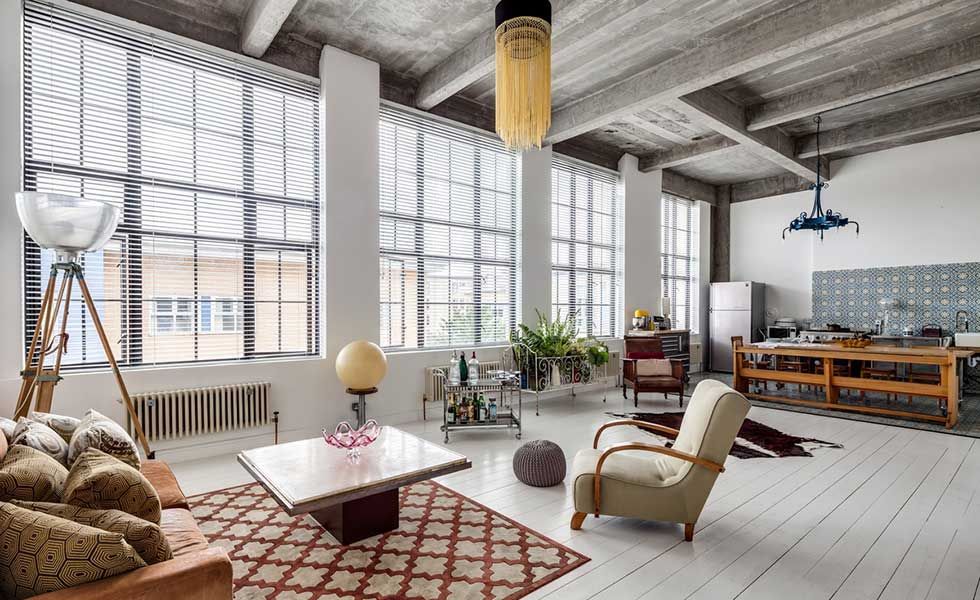 One of my favorite furniture pieces for lofts and apartments are sectionals. The sectional is a staple piece that creates enough seating space for you and your guests but also creates the "room within a room" factor.
I hope this helped all of you design lovers looking to move into a loft here in Philadelphia or The Mainline. If you already live in a loft, I hope this post gives you new and creative interior design ideas! If you enjoyed reading this piece please leave a comment and tell us what your favorite interior design ideas were.  AND, let's get social.  Follow us on Instagram, Facebook, Twitter and connect on LinkedIn!
About our Founder
Tina Delia, a native of Ocean County, NJ, current resident of Philadelphia, is the Founder and Principal Interior Designer of Delia Designs. For the past nine years, Tina has been steadfast in her vision and continues to develop herself personally and professionally. She is dedicated to excellence and insistence on forward thinking design.
At the forefront of her designs is the idea that our spaces have the ability to transform our lives.  She is looking to move us, inspire us to see, think and create freely.  After all, it's not only about creating beautiful spaces, it's about touching the lives of the people who live, work and walk through those spaces.
About the Author
Eleni Palamidis, a native to Philadelphia, is currently a student at Community College of Philadelphia and will be transferring to Moore College of Art and Design in the Fall. She has always had a passion for interior design and creative ventures. While at Moore she will be pursuing a major in Interior Design with a minor in Graphic Design and Business.
Growing up in the Greek community has shaped Eleni to be the person she is today.   She has been fortunate enough to have visited many of the islands in Greece, to which she credits her love for Architecture. Eleni hopes to one day open her own Interior Design studio and continue to do what she loves.