Up on the blog this week, I'm introducing Amazon Home.  Amazon is now on to a new venture: home furniture.  Last year, Amazon announced the launch of Rivet and Stone & Beam, two new furniture brands dedicated to making stylish mid-century modern and rustic furniture accessible and affordable to its customers.   Rivet's look is more mid-century modern, while Stone & Beam's is more farmhouse chic — but both are relatively affordable compared to the big-name competitors.  By the looks of it, you'd think that West Elm or Crate & Barrel had suddenly been made available on Amazon.com. In reality, the designs are developed and manufactured exclusively for the site, and they actually look comparable to brand-name furniture in person.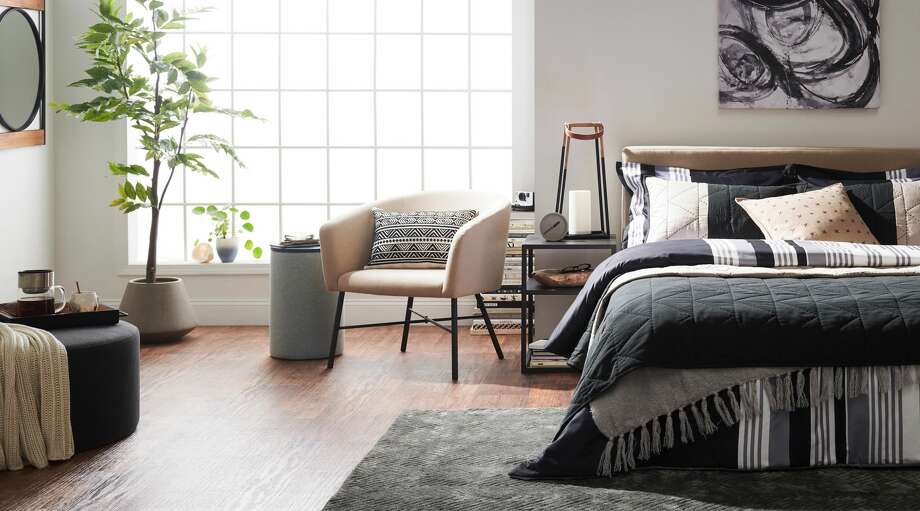 Photo Cred 
Shopping for new furniture can be overwhelming because there are so many choices out there, not to mention extremely expensive. That's why I wanted to introduce Amazon Home.  It has a great selection of affordable choices and even stylish in-house collections you can't find anywhere else. The best part: a majority of its best pieces are available on Prime, so they'll be delivered right to your door within just a few days. From sofas to bookshelves and console tables, these picks are the perfect pieces you need for the new year.  That said, Amazon hasn't gotten to where it is because people don't like its products. In fact, it's grown to become such a powerhouse precisely because people desire the convenience it provides — fast shipping, useful services, and great tech that makes life easier and more connected.  It's a controversial discussion in Interior Design and maybe even more now if pieces are made in China.  But, I believe the benefits of good design should be available to everyone.  So, while an established family may not purchase furniture from Amazon Home, it has it's place in the interior design market, especially for young professionals or couples just starting out.  High-quality furniture can get really expensive. Think about it: Most furniture stores offer financing plans for items as basic as sofas.  Needless to say, if you're thinking about furnishing an entire room or, even worse, furnishing an entire house or apartment, you're in for some sticker shock.   That's why it's such a game changer that more and more furniture is available on Amazon. You can find everything from bed frames and mattresses to kitchen carts and rugs—plus, many items are highly rated by reviewers, so you know they're a good investment.
Photo Cred
I checked some of the styles out myself.  Though Amazon certainly does offer some standout styles that can really serve as accent pieces in your home, I was really happy with several simple picks from Rivet and Stone & Beam.  Both collections offer a full suite of designs, with items for every room of the house — from sofas and accent chairs to nightstands and bed frames. There's so much variety from both labels, and the prices are almost always less than the equivalent or similar styles from competitors. You'd be hard-pressed to find such a large selection of quality designs at a similar cost (not to mention the addition of free Prime shipping).  Keep reading to shop my favorites.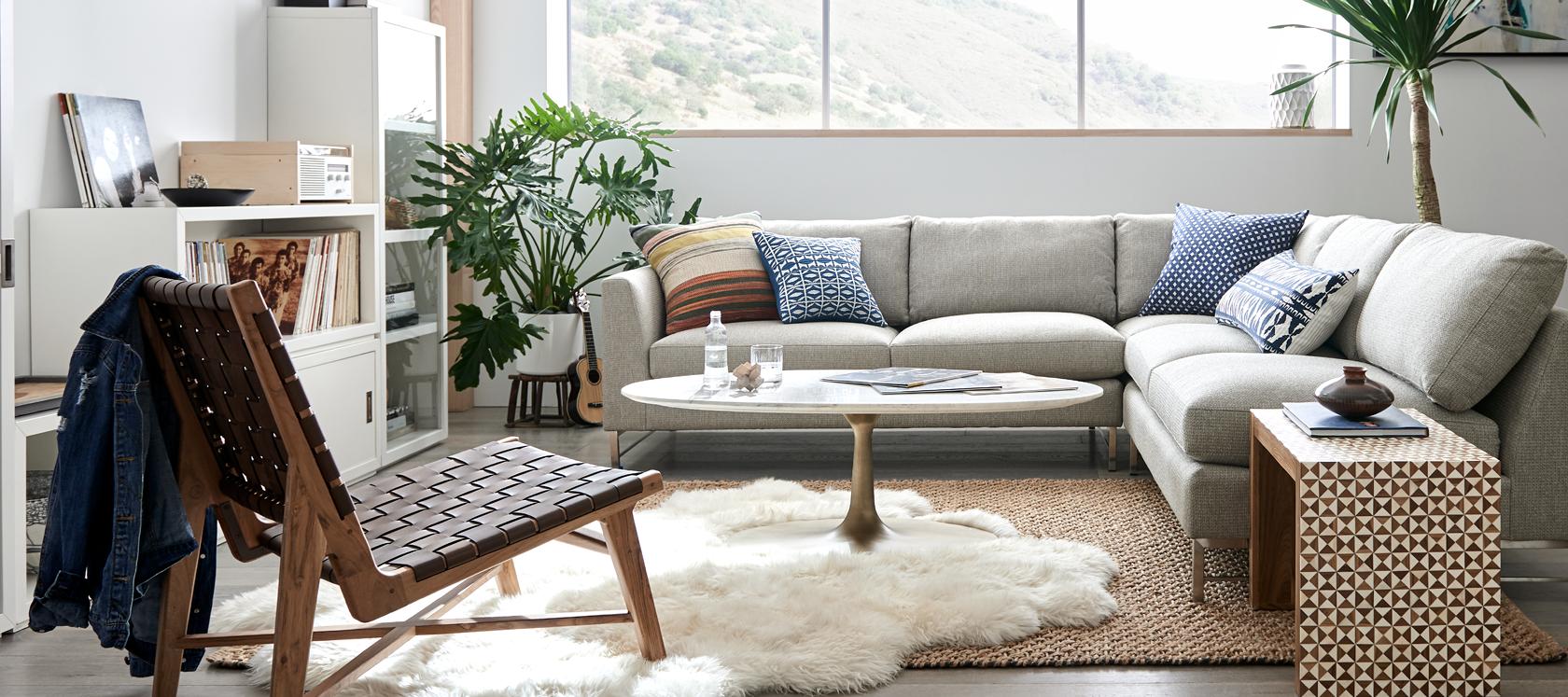 Photo Cred
Rivet
Rivet, with its up-to-date designs based on the popular mid-century modern style, offers more affordable takes inspired by the classic Hans Wegner and George Nelson originals we all wish we could afford. The aesthetic is slightly industrial, featuring bold brass finishes, walnut wood, black steel accents, and lots of cognac leather, plus gentle grays and navy blues. Many of the individual pieces are still warm enough to fit seamlessly into essentially any sort of decorative theme, but the shapes and lines tend to skew more angular and masculine. 
Sofa
PURCHASE HERE
Bedding
PURCHASE HERE
Chair
PURCHASE HERE
Sofa
PURCHASE HERE
Dining Table
PURCHASE HERE
Dining Chairs
PURCHASE HERE
Pendant Light
PURCHASE HERE 
Stone & Beam
Stone & Beam's style is a bit more upscale, with warmer pieces and lighter finishes. The aesthetic leans toward clean, cozy, and slightly rustic — like a farmhouse that's as comfortable and livable as it is picturesque. The price points are a little higher than Rivet, but not so much that they render the furniture unreasonable by any means. 
Sofa 
PURCHASE HERE
Nesting Tables
PURCHASE HERE
Tables
PURCHASE HERE
Tables
PURCHASE HERE
Pendant Light
PURCHASE HERE
Table
PURCHASE HERE
I definitely recommend checking out Amazon's private-label furniture brands if you're looking to spruce up your interior design or start from scratch. Your guests won't be able to tell that you didn't spend thousands of dollars at a big name store, but your wallet sure will.  Please note that I haven't purchased any of these pieces so I can't attest to their overall quality.  I am also not getting paid for links on this blog.  What I can tell you is that if the return and exchange policy is the same Prime policy,  if you're not happy with your purchase, Amazon will exchange or refund your purchase.
Hey Philadelphia, let's get social.  Follow us on Instagram, Facebook, Twitter, YouTube and connect on LinkedIn! Each day I will post follow up interior design thoughts from the latest blog post to give you more inspiration.  AND, please leave me a comment below and let me know what you thought of this post!
In addition to being a Philadelphia Residential Interior Designer,  I also design boutique hotels, fitness centers, office spaces, multi family development projects, other commercial spaces such as office and retail spaces, and the senior living community throughout the tri state area.  We work here in Philadelphia, the main line, and even Nationally! 
About the Interior Designer
Tina Delia, a native of Ocean County, NJ, current resident of Philadelphia, is the Founder and Principal Interior Designer of Delia Designs. For the past nine years, Tina has been steadfast in her vision and continues to develop herself personally and professionally. She is dedicated to excellence and insistence on forward thinking design. At the forefront of her designs is the idea that our spaces have the ability to transform our lives.  She is looking to move us, inspire us to see, think and create freely.  After all, it's not only about creating beautiful spaces.