Up on the blog today we are discussing the indoor/outdoor bathroom.  I've always been in love with the indoor/outdoor bathroom, having grown up at the beach.  There was always an outdoor shower to get the sand off prior to entering the house.  But, I became even more enamored with them during my Wellness Retreat to Sri Lanka last year.  
If you love spending time in the bathroom, and you love the outdoors — and you're maybe a little bit of an exhibitionist — then you'll really love these bathrooms with an outdoor component. Some are more exposed than others, so you get a choice of how much you'd like to show off — but all are very beautiful, like a tiny tropical retreat within your own home.
My heart skipped a beat when I saw this beauty.  The marble tile with the black elements give it an airy feel.
Photo Cred
This architectural bathroom space is such a vision. We love its modern take on the resort style – the standing shower frames the very inviting bathtub nicely too! 
Photo Cred
While it's indoors, this bath space still enjoys a nice dose of sunlight and a calming view.  Sliding doors open the space to nature.
Photo Cred
 In this house in Jakarta, spotted on Arch Daily, this tub-within-a-pool is surrounded by wooden slats, with acrylic louvers between which can be closed to provide privacy.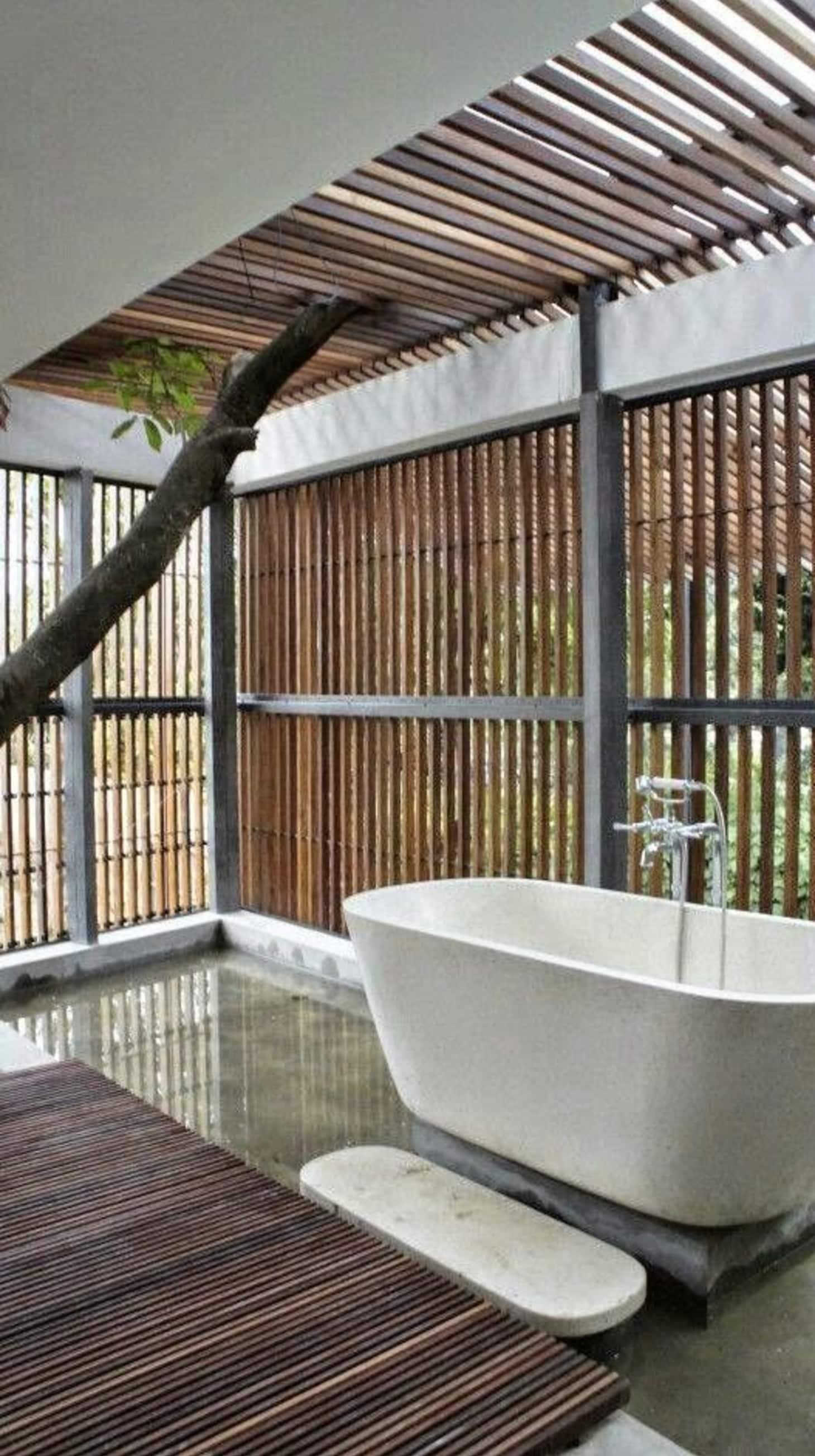 (Image credit: Arch Daily)
This Bathroom, in a Palm Beach house spotted on Architectural Digest, opens up to an outdoor shower. It's the best of both worlds, really: the privacy of showering inside, the sunny bliss of showering outside.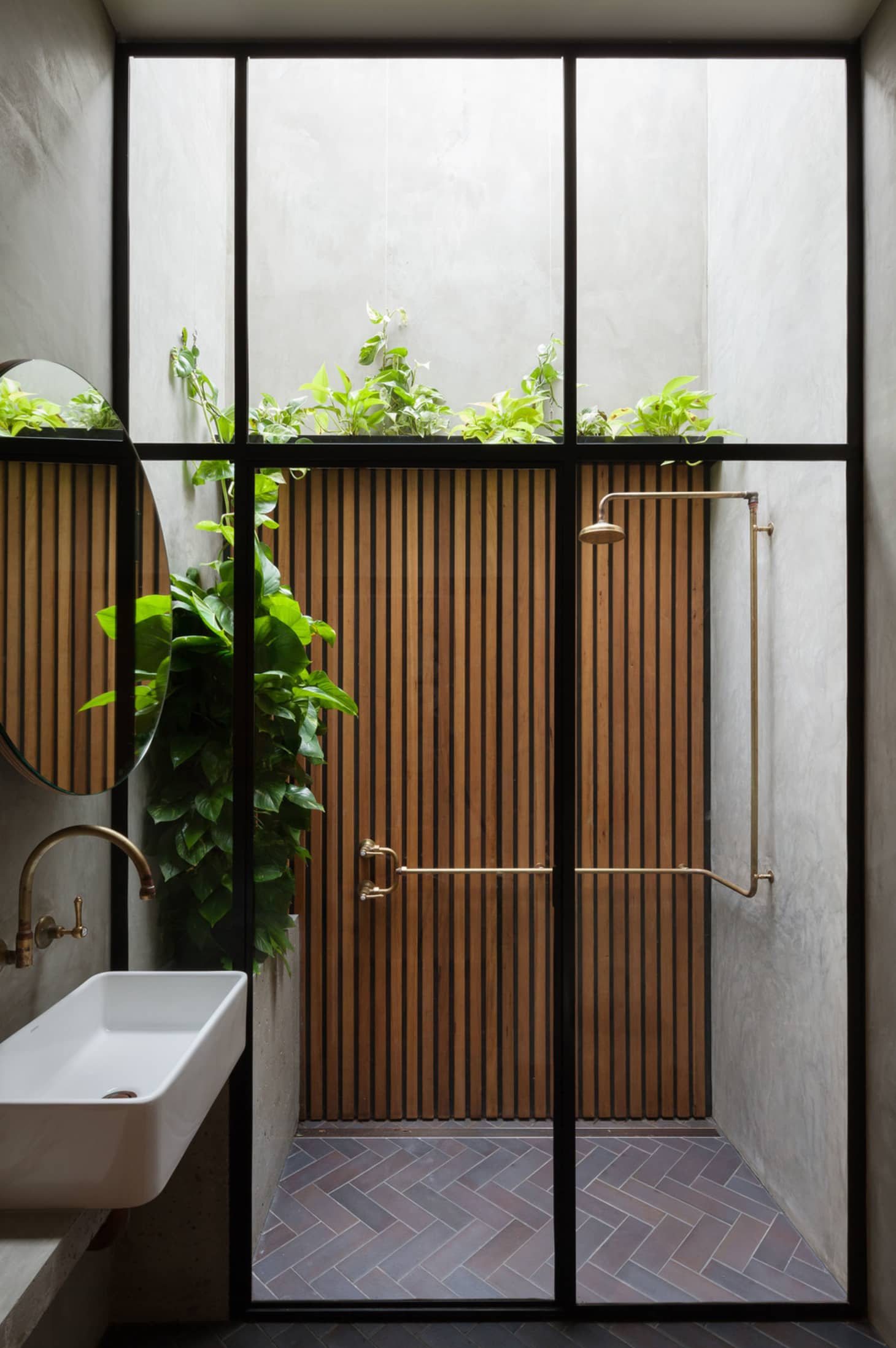 This little courtyard brings a bit of the outdoors into the indoors bathroom with over sized plants and an enlivening splash of sunlight. 
Photo Cred
Right up there with a chef's kitchen and an infinity pool, outdoor bathtubs have made the cut on our dream-home amenity list. The thought of taking a deep soak somewhere warm with a lush, pretty view in the great outdoors is as good as it gets.
Photo Cred
Why take a bath inside a claustrophobic, windowless bathroom when you could clean up in Mother Nature? The outdoor bath truly creates a more indulgent and comfortable atmosphere for relaxation.  I hope these bathrooms have inspired you to go find an outdoor bathroom to envelop your senses or create one of your own!
In addition to hospitality design, we also design multi family development projects, other commercial spaces such as offices and retail spaces, and fitness center projects.  We work here in Philadelphia, the main line, the tri state area and Nationally!  If you enjoyed reading this piece please leave a comment and let us know.  AND, let's get social.  Follow us on Instagram, Facebook, Twitter and connect on LinkedIn!
About our Founder
Tina Delia, a native of Ocean County, NJ, current resident of Philadelphia, is the Founder and Principal Interior Designer of Delia Designs. For the past nine years, Tina has been steadfast in her vision and continues to develop herself personally and professionally. She is dedicated to excellence and insistence on forward thinking design.
At the forefront of her designs is the idea that our spaces have the ability to transform our lives.  She is looking to move us, inspire us to see, think and create freely.  After all, it's not only about creating beautiful spaces, it's about touching the lives of the people who live, work and walk through those spaces.
About the Intern
Eleni Palamidis, a native to Philadelphia, is currently a student at Community College of Philadelphia and will be transferring to Moore College of Art and Design in the Fall. She has always had a passion for interior design and creative ventures. While at Moore she will be pursuing a major in Interior Design with a minor in Graphic Design and Business.
Growing up in the Greek community has shaped Eleni to be the person she is today.   She has been fortunate enough to have visited many of the islands in Greece, to which she credits her love for Architecture. Eleni hopes to one day open her own Interior Design studio and continue to do what she loves.