Up on the blog this week I'm diving into the hotel industry and sharing with you Five trends being seen in Hotel Design.  I recently read an article written by Nancy Huang, the Marketing Director at Travel Tripper. She is an admitted travel junkie and loves finding amazing hotel deals when booking direct.  I found her trends to be spot on with what I've been seeing in Interior Design as well.  Keep reading to find out what the latest trends are! 
Hotel design is becoming increasingly ambitious in scope. In 2019, you can expect to see hotels creating vibrant new social spaces, investing in energy-reducing technologies, and focusing on hyper-local design to wow guests and match their increasingly high expectations.
Here are five major design trends we're watching out for in the year ahead.
Eco-friendly features
As global travelers increasingly choose hotels based on their eco credentials, hotel design is all about going green in 2019. In an effort to become more environmentally friendly, a wave of properties are investing in energy-reducing technologies.
Yotel New York is currently upgrading its thermostats to feature heat sensors that sync with the property management system, allowing hotel staff to see when a room is occupied. At E.c.ho. Milan, motion detection air conditioning and a computerized LED lighting system are helping to reduce energy consumption.
But eco-friendly design isn't just about technological solutions. At 1 Hotel Brooklyn Bridge, over half of the materials used to build the hotel were reclaimed. The elevators include salvaged wooden boards from local water towers, pine floors are pulled from the Old Crow Distillery in Kentucky, and the rooftop pool and bar was created using reclaimed railroad ties.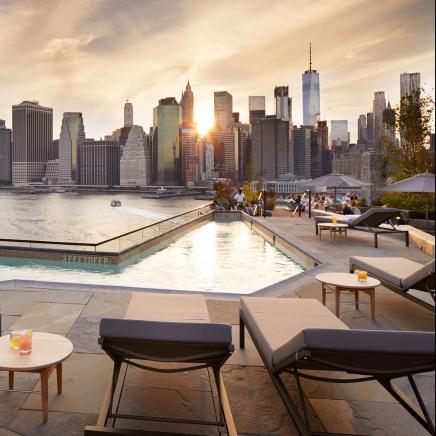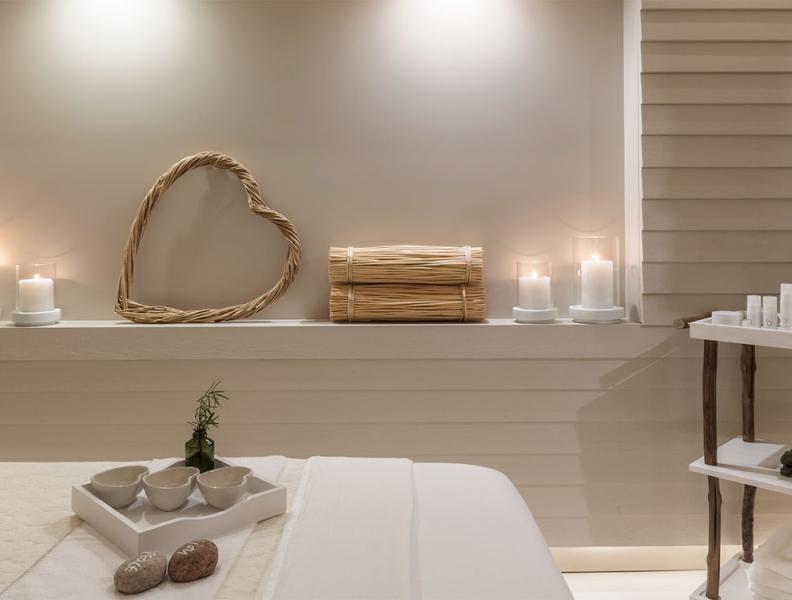 Arlo Hotels is also targeting eco-conscious travelers with its "Arlo Cares" platform — a sustainability program that encourages guests, locals, and partners to embrace an "earth-ethical way of living." The brand's host of initiatives include the elimination of single-use plastics, the launch of an educational speaker series, community outreach opportunities, and documentary screenings.
Hyper-local design
By working with local artists, designers, musicians, and retailers, hotels are using design elements to tell the story of their neighborhood's physical and social history. Integrating all things local can help a property reduce design costs while giving guests an experience that truly reflects the spirit of their destination.
At the uber-cool Le Pigalle in Paris, photographs and quirky cartoon strips are supplied by local artists, eclectic furniture is sourced by a vintage furniture expert, and the playlist is curated by a neighborhood DJ. The hotel even has a newspaper kiosk run by locals. The design and atmosphere here perfectly capture the bohemian heritage of the surrounding district.
In a more flamboyant display of its locality, Nhow Hotel in London (arriving this summer) will combine traditional British icons with quirky contemporary design under the theme 'London Reloaded'. There'll be a 'Big Ben' rocket sculpture in the lobby, the restaurant will be an avant-garde themed version of a traditional British pub, and large gold bell lights will pay tribute to London's famous church bells.
Also in London, The Stratford hotel in the Manhattan Loft Gardens skyscraper (opened this spring) shares its space with residential lofts, and all residents are able to access the hotel's facilities. This blurring of a hotel and residential space is an example of how urban properties are giving guests a truly communal, 'meet the locals' experience.
Indoor meets outdoor
Hotels are also cleverly blurring the boundaries between indoor and outdoor spaces. Indoor waterfalls, luscious green walls, all-season terraces, and innovative day lighting techniques are all being used to help guests stay connected with the natural environment.
The Sarasota Modern combines a cool urban vibe with indoor-outdoor design elements, including slatted roofs, floor-to-ceiling windows, and lots of lush vegetation. At the Furnas Boutique Hotel in Portugal, huge, nature-inspired photographs of the island feature in the property's private and public spaces.
While at the Royal National Hotel in London, the light-filled atrium has a beautiful artificial green wall that adds an outdoor feel while guests enjoy coffee.
In addition to providing a more calming ambiance, the indoor/outdoor design trend offers a way for hotels to create unique focal points that reflect the surrounding neighborhood.
Experiential social spaces
Buzzing communal lobbies, artisan coffee shops, and neighborhood-style bars are increasingly part of-of hotel design. But some hotels are finding more creative ways to wow their guests while making them feel right at home.
Designed with a contemporary lake house theme, the brand-new W Bellevue boasts an array of discrete social areas, including a funky speakeasy lounge, the "W Living Room" (complete with swings, sofas, and a roaring fireplace), and "The Library" — a snug area where guests can play vintage board games and grab a novel from book-filled shelves.
Hotels are also using their grounds to offer culturally-immersive experiences. Located at the heart of the Vista Collina Resort in Napa Valley, "The Village" is home to nine tasting rooms from local wineries and breweries. There's also a locally sourced artisan market, a picnic lawn that hosts live concerts, and an onsite Five town Grocery where guests have the chance to sample local produce.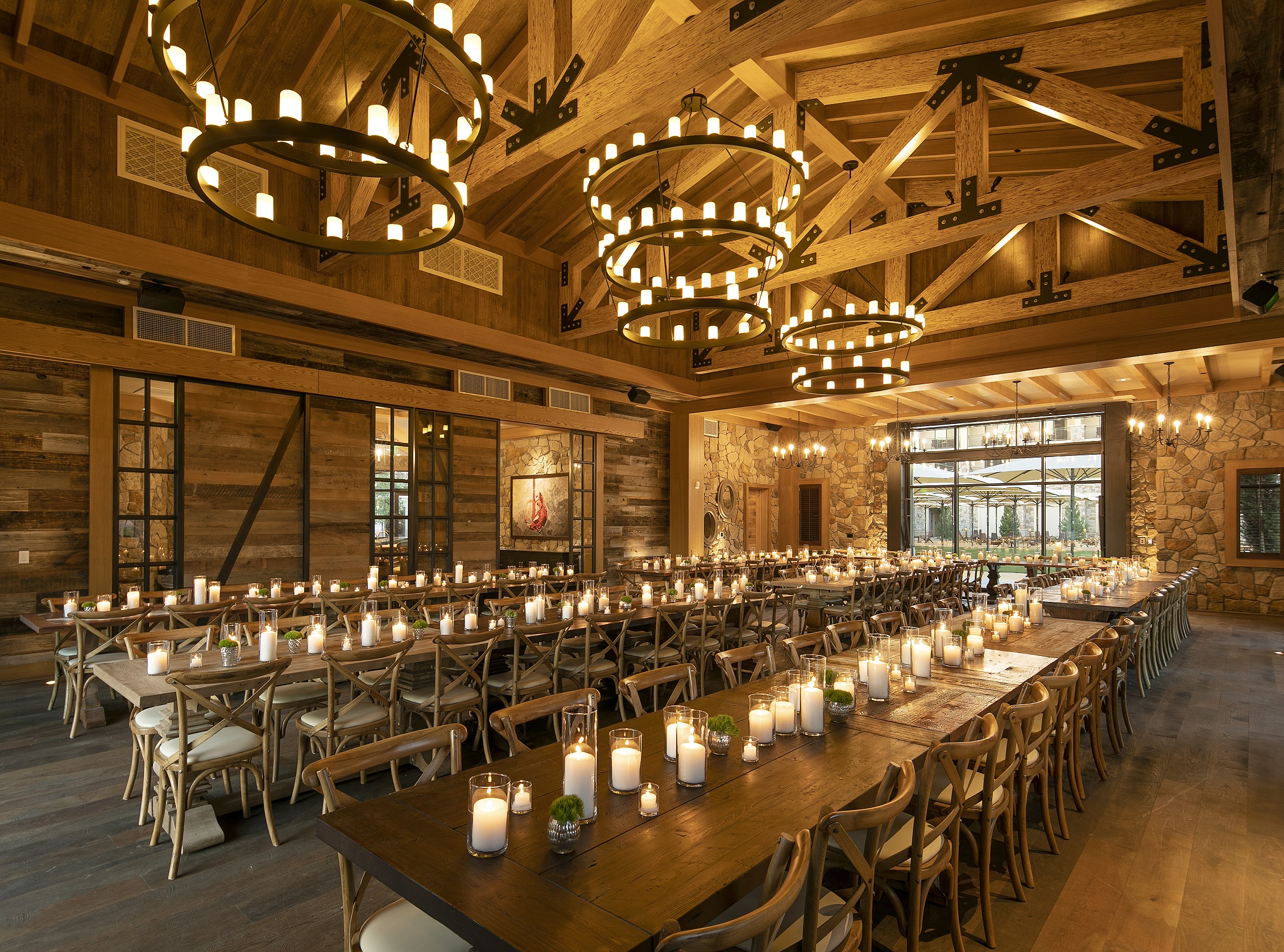 To help guests maintain healthy lifestyles, every room at EVEN Hotels is stocked with in-room fitness gear, and walls feature inspiring slogans to boost motivation levels. In addition, guests can access YouTube fitness videos, pick up neighborhood maps with suggested running routes and hit the hotel's huge 'Athletic Studio' gym — billed as being three times the size of a standard hotel gym.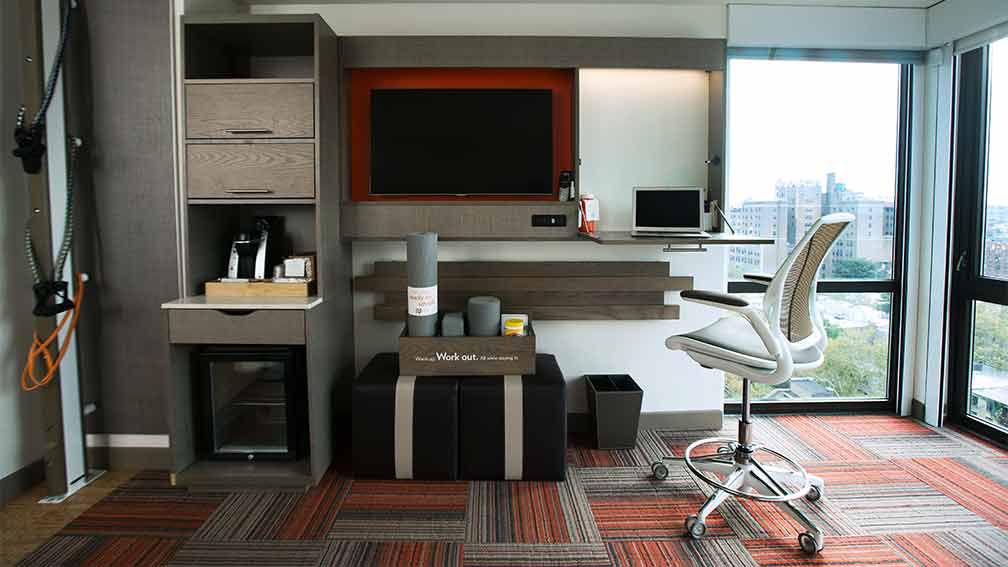 Re-imagined lobbies
In recent years, youth-focused chains such as Ace and Moxy have turned their lobbies into buzzing social hubs that encourage guests (and non-guests alike) to work, chat, and unwind over cocktails and micro-brewed beers. Now, the hotel lobby is being used in other imaginative ways to meet the needs of the guests.
Baltimore Marriott Inner Harbor at Camden Yards has installed a self-serve beer and wine wall in the lobby so guests can grab a drink without queuing at the bar. At Sheraton hotels, 450 existing lobbies are being redesigned to feature a new "Productivity Table" that includes power outlets, USB ports, built-in Qi wireless charging, and rent-able drawers that guests can store personal items.
Hotels are also turning their lobbies into unique retail and performances spaces. With all the feel of a contemporary art gallery, the lobby of the Saint George hotel in Marfa is home to the renowned Marfa Book Company, hosts regular cultural events, and sells a curated selection of home ware, artwork, and coffee table books.
A recent New York Times article sums it up best, describing the hotel lobby as "the new public square". Expect this trend to continue as hotels look to infuse their lobbies with a communal buzz and provide an alternative co-working space to capture non-hotel guests.
Evolving design trends
Many of the latest hotel design trends are inspired by the shifting preferences and lifestyles of modern travelers. The rise of eco-friendly hotels is a response to the growing number of eco-conscious hotel guests.
Imaginative concepts in lobby design cater to younger travelers looking for a more communal experience, and a surge of freelancers and solo travelers who don't want to be tethered to their rooms.
And while the hyper-local design trend isn't entirely new, an increasing number of hotels (both brands and independents alike) are making a big push to deliver the authentic neighborhood vibe travelers crave.
In addition to designing boutique hotels, we also design multi family development projects, other commercial spaces such as offices and retail spaces, and fitness center projects.  We work here in Philadelphia, the main line, the tri state area and Nationally!  If you enjoyed reading this piece please leave a comment and let us know.  AND, let's get social.  Follow us on Instagram, Facebook, Twitter and connect on LinkedIn!
About our Founder
Tina Delia, a native of Ocean County, NJ, current resident of Philadelphia, is the Founder and Principal Interior Designer of Delia Designs. For the past nine years, Tina has been steadfast in her vision and continues to develop herself personally and professionally. She is dedicated to excellence and insistence on forward thinking design.
At the forefront of her designs is the idea that our spaces have the ability to transform our lives.  She is looking to move us, inspire us to see, think and create freely.  After all, it's not only about creating beautiful spaces, it's about touching the lives of the people who live, work and walk through those spaces.
About the Intern
Eleni Palamidis, a native to Philadelphia, is currently a student at Community College of Philadelphia and will be transferring to Moore College of Art and Design in the Fall. She has always had a passion for interior design and creative ventures. While at Moore she will be pursuing a major in Interior Design with a minor in Graphic Design and Business.
Growing up in the Greek community has shaped Eleni to be the person she is today.   She has been fortunate enough to have visited many of the islands in Greece, to which she credits her love for Architecture. Eleni hopes to one day open her own Interior Design studio and continue to do what she loves.