Up on the blog this week I am featuring the West Elm Holiday House.  I thought it would be a festive way to talk about interior design during the Holiday Season.  Get inspired! Take a tour of West Elm's holiday house with me. It has all the seasonal ideas you've ever needed and more.  A fresh, modern take on decorating and entertaining extends to every corner of the first-ever West Elm Holiday House, a 3,300-square-foot condo near Union Square in New York City. That includes the color palette, where, Sherwin-Williams' director of color marketing, chose hues that demonstrate color's connection to mental, physical and emotional well-being. And, shows off their color of the year for 2020.  Here are my favorite spaces.  You'll be amazed by the plush, totally chic West Elm holiday decor that's covering every. inch. of this stunning $8M apartment.
The open-plan living room has two Christmas trees.
Whether it's real or fake, your tree could likely use a little filling out. Adding extra foliage, such as eucalyptus leaves adds fullness to the tree. For faux trees, it also gives off that must-have holiday scent. You can replace leaves as the season goes on, too, so your tree always looks fresh—and you have a fresh look for every holiday party.

Photo by West Elm
The holiday house is one big source of floral inspiration.
The whole place is super festive, beautiful, apt to send waves of holiday cheer coursing through your body ... but also attainable. Yep, the furniture and accessories decorating West Elm's Holiday House are available (on westelm.com and in stores in Philadelphia, the Mainline and in the Tri State area) to help you get your own space ready for the most wonderful time of the year!
Photo by West Elm
The Entryway
West Elm's holiday entryway is understated, but festive. For a similar look in your space, try over-sized golden candle holders. If you've already got some pillow action going on, mix in a few holiday ones as well to coordinate with the interior design palette you have going on.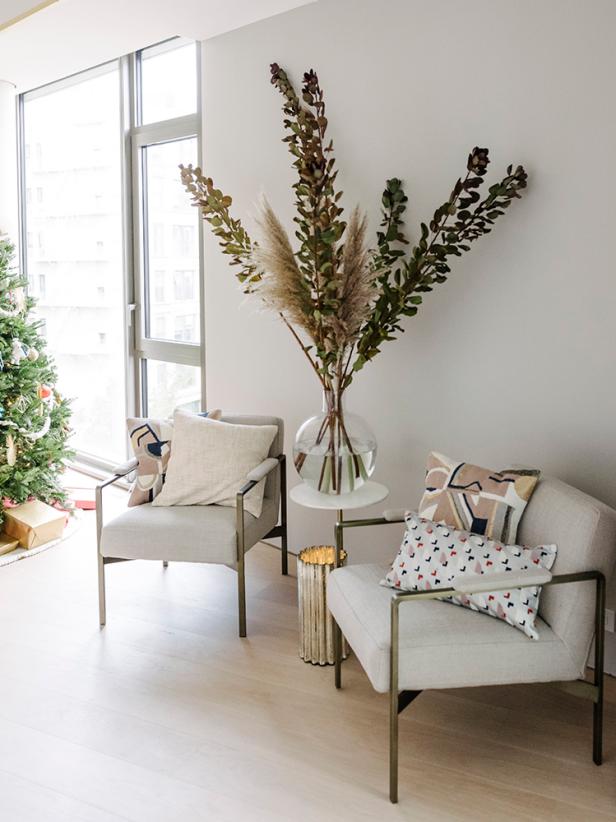 Photo by West Elm
The Dining Room
Cozy up your dining space with a furry throw — or make sure there's at least a glimpse of your sparkling Christmas tree from where your guests will gather.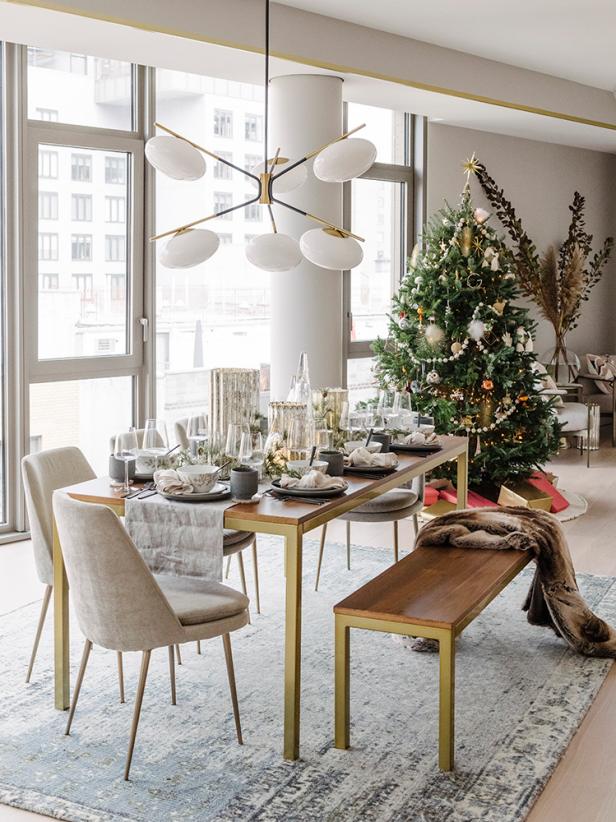 Photo by West Elm
The Table Setting
A beautiful table setting can make all the difference. Personally, I'm all about setting the table. Stressing over centerpieces, in addition to all the other holiday decorations, isn't necessary. Instead, stick your favorite decorative items in the center of your holiday feasting table.Lay a neutral table runner down to let your accessories shine and you're all set.  ​​​​​​​
Photo by West Elm
Photo by West Elm
The Kitchen
There's that oversized candle I love (burning away!) — plus, pampas grass and some faux plants. Elevate your holiday counter space with a cake stand or a bowl of fruit.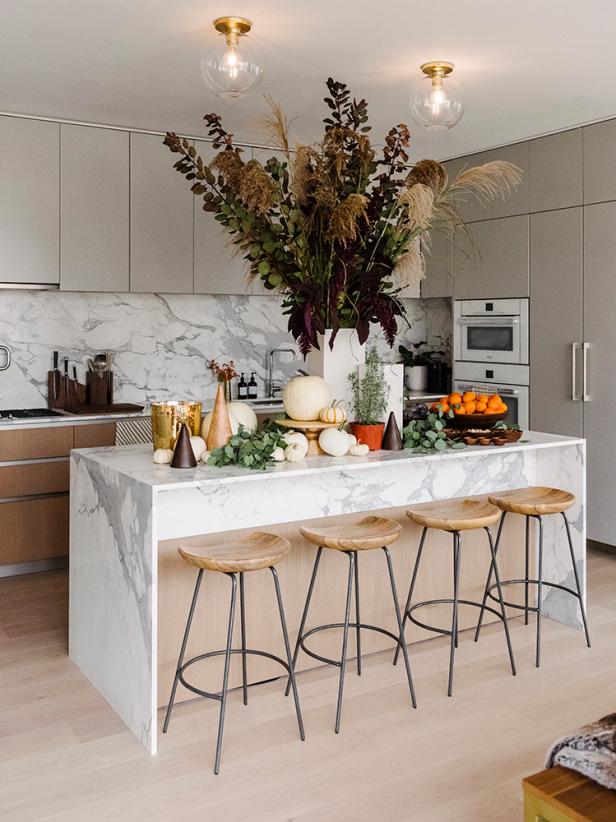 Photo by West Elm
The Living Room
Plush pillows and throw blankets are a must during the holidays. Use your sofa as a canvas like West Elm did here. Sparkly candles on your coffee table will add the finishing touch. And remember, it's hard to have too many pillows to snuggle up with when it's cold outside.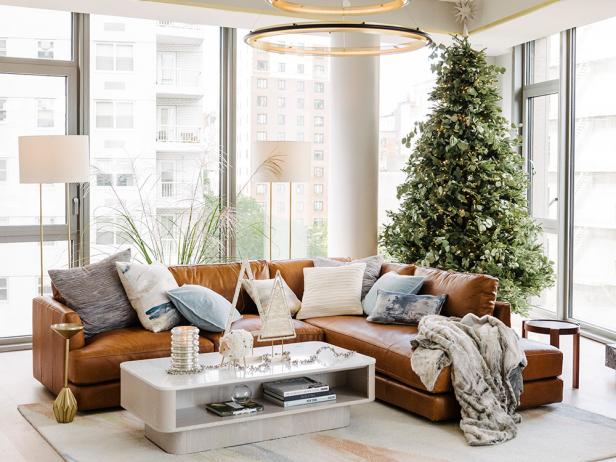 Photo by West Elm
The Fireplace
I'm all for the simplicity of the mantle here.  Filled with a glittering village of festive accessories, it makes a statement subtly.  Metallic finishes have been big for permanent decoration throughout 2019, and the end-of-year holidays continue the trend. Metallics are especially good for the holidays, because they can show off holiday spirit without feeling overdone or too loud—particularly if you've already incorporated metallic items into your home in other ways.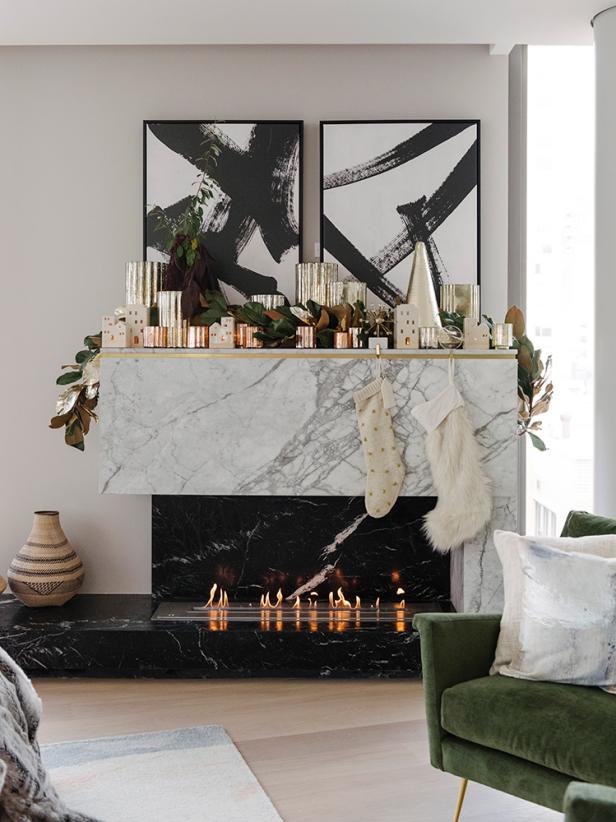 Photo by West Elm
The Credenza
If you have a credenza that needs decorating, it's okay to start small. Try scattering silver candle holders across its surface or filling a glass vase with ornaments. Personal touches — like a vase full of your favorite flowers — are easy to execute and make all the difference.  Putting your tried-and-true holiday decorations in non-traditional spots both shakes up your existing interior design and makes it easier to fit these special holiday items into your home, especially if you're in a small apartment in Philadelphia.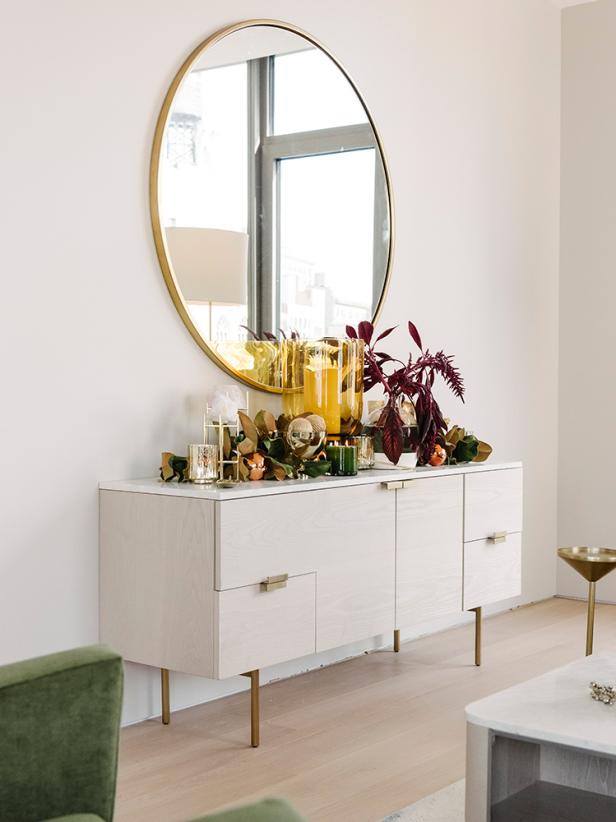 Photo by West Elm
The Media Room
Get a little colorful in your media room or playroom. Board games and festive decor abound!  Instead of limiting your holiday decorating to the living room or dining room, find ways to sprinkle your icons of seasonal cheer around the whole house. West Elm's team suggests adding ornaments to bowls or vases, which you can distribute around your space.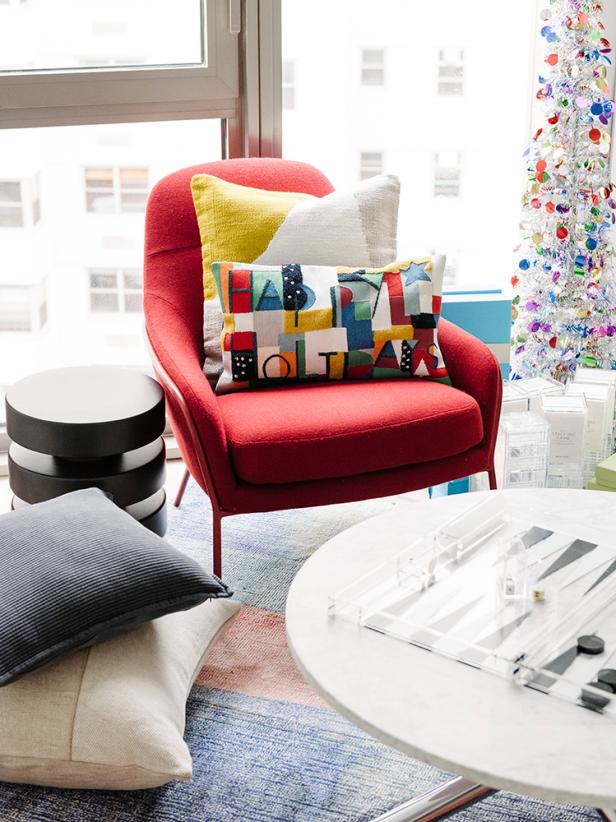 Photo by West Elm
The Sherwin Williams Bedroom
You can't really go wrong with timeless navy (we've got heart eyes for Sherwin William's color of 2020, Naval), even during the holiday season when it's all about red and green. If you want to switch up your holiday color palette a little, try pairing navy accents with jewel tones (i.e. pillows, throws or velvet accessories). As you can see, this idea works especially well in bedrooms.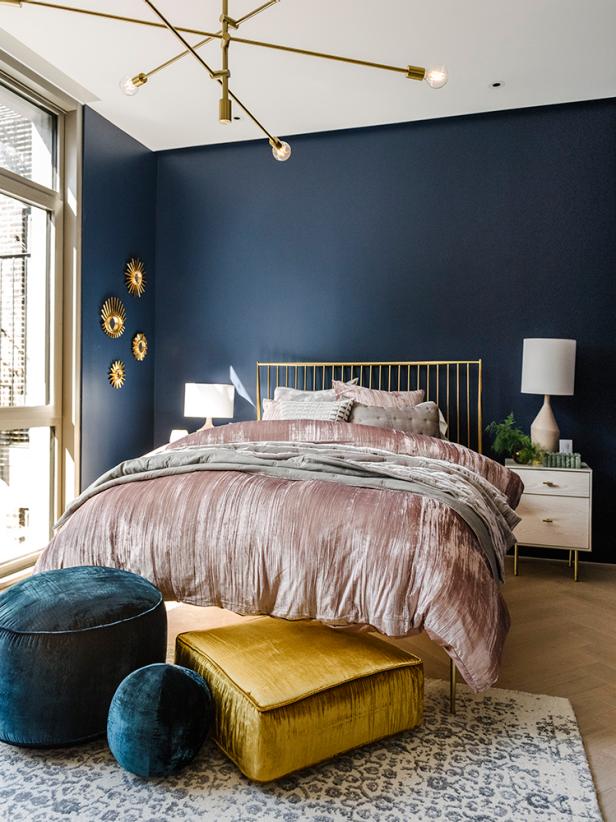 Photo by West Elm
I hope that you enjoyed this tour of the West Elm Holiday House.  Let me know if you enjoyed it by leaving me a note in the comments below!  I'm also attaching the West Elm Holiday House Fire for you to stream!
In addition to being a Philadelphia residential Interior Designer,  I also design boutique hotels, fitness centers, office spaces, multi family development projects, other commercial spaces such as retail spaces, and the senior living community throughout the tri state area.  We work here in Philadelphia, the main line, and even Nationally!  If you enjoyed reading this piece please leave a comment and let us know.  AND, let's get social.  Follow us on Instagram, Facebook, Twitter and connect on LinkedIn!
About our Founder
Tina Delia, a native of Ocean County, NJ, current resident of Philadelphia, is the Founder and Principal Interior Designer of Delia Designs. For the past nine years, Tina has been steadfast in her vision and continues to develop herself personally and professionally. She is dedicated to excellence and insistence on forward thinking design.
At the forefront of her designs is the idea that our spaces have the ability to transform our lives.  She is looking to move us, inspire us to see, think and create freely.  After all, it's not only about creating beautiful spaces, it's about touching the lives of the people who live, work and walk through those spaces.