Up on the blog this week whether you or your child is heading off to college for the first time or not, we pulled together some dorm room essentials inspired by all the places you or your student will be getting work done this school year.  In the dorms or at home sweet home.  We all know some of the usual essentials that a freshman student should bring to college, but it's hard to think of everything. Of course, personal items from home will aid in the transition, but you'll need more than bedding and a laptop to get through the year.  Before you buy or pack anything, be sure to check with your school about what items you are and are not allowed to have. Most schools have to be very careful about health and safety regulations, especially now in the age of COVID-19.  Rules differ from place to place. One school might not allow microwaves; another might have specific regulations about what size of refrigerator is allowed.  So, keep this mantra in mind…..Less is more, less is more. Dorm rooms are tiny and shared spaces. There is minimal room for the necessities and not much else for a lot of extras. 
Photo Cred:  Pinterest
BEDDING
Your dorm or apartment is going to be your home base for an entire year or more. Though it may not feel like home when you first move in, there's a lot you can do to make it a place of relaxation and rejuvenation. Use this as an opportunity to customize the space and try your hand at interior design.  Up first, choose bedding that makes a statement.  By statement, I mean it should be color or pattern that you want to build the rest of your room off of. Your bed will be one of the biggest pieces of furniture in the room, so the duvet cover you choose will really affect the mood of the space!  Of course I am partial to Delia Designs Home, Endless Summer Collection.  Botanical details and color really inspire a room.  It's all about bringing nature indoors.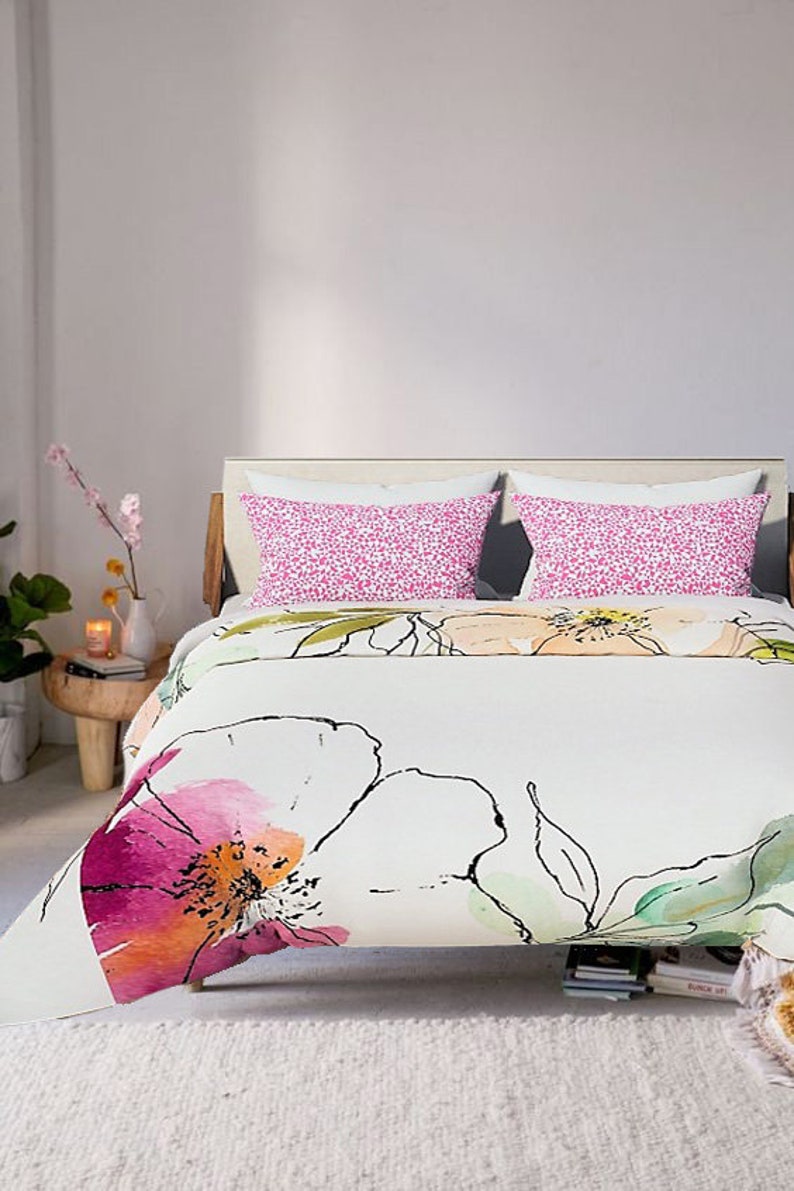 Delia Designs Home
WALL DECOR 
While posters can give the space some character and speak to your interests, if you like to paint or draw in your free time, this is a chance to give yourself and your friends a private art exhibition. Decor isn't just about looks and aesthetics. It can be functional too!  Use a variety of print sizes, frame styles and designs to put your many interests on display.  Don't shy away from piling on pieces that grab the attention of whoever walks through the door.  Rugs are also a great way to bring some life and color to the room!
Photo Cred:  Pinterest
LAUNDRY 
When it comes to laundry, most students dread the thought of doing it, whether it be loading and unloading hampers or folding clothes afterwards. While we can agree that doing laundry isn't the most exciting thing you'll experience in college, it's a necessary one. Your dorm room storage probably isn't the biggest, so instead of wishing you had a little more closet space for your garments, think about investing in a clothing rack! They're a great way to display your most loved pieces of clothing while also helping to keep everything organized. 
Nikkeby Clothes Rack by IKEA 
Bamboo X- Frame Laundry Basket from Target
If you are like most teenage girls, you are probably a bit of a skincare product hoarder, so the space under your sink whether here in Philadelphia or otherwise, isn't nearly enough for all your toiletries.  Get yourself a rolling utility cart.  Easily move around the storage space in your room where you need it most.
3 - Tier metal utility cart from Target
MUSIC
You no doubt will need something to play your music on.  I found this speaker at Ikea.  You get a clear and powerful sound experience wherever you place it – either standing or mounted on the wall. Choose the soft fabric front or a minimalist look with parts of the speaker exposed.
Eneby Speaker from Ikea
LIGHT IT UP
For all of those late nights you will be up studying, you will need a little extra light.  Shine on with this adorable LED Mood Lamp from Target. Filament lighting provides a warm white glow and the terrazzo white base adds a modern twist, making it easy to add a stylish glow to any table, bookshelf, or desk. Battery or USB operated.
Photo Cred:  Target
PURE AIR
Last but not least, one of the most important items you may invest in this year is a hepa air purifier.  You may not ever want to leave the room.  You will just want to stay inside and breathe the GOOD air!  Air purifiers take all the dust particles, odors, pet dander, and more out of the air in your interior, making it cleaner and easier to breathe.
Coway Mighty Air Purifier with True HEPA and Eco Mode in White
We hope this guide was helpful and at the very least, directed to you some new and exciting products for your new space.  May you use these items to direct your interior design vision for your dorm room! 
Hey Philadelphia, let's get social.  Follow us on Instagram, Facebook, Twitter, YouTube and connect on LinkedIn! Each day I will post follow up interior design thoughts from the latest blog post to give you more inspiration.  AND, please leave me a comment below and let me know what you thought of this post!
In addition to being a Philadelphia Multifamily Interior Designer,  I also design boutique hotels, fitness centers, office spaces, residential development projects, other commercial spaces such as office and retail spaces, and the senior living community throughout the tri state area.  We work here in Philadelphia, the main line, and even Nationally! 
About the Interior Designer
Tina Delia, a native of Ocean County, NJ, current resident of Philadelphia, is the Founder and Principal Interior Designer of Delia Designs. For the past nine years, Tina has been steadfast in her vision and continues to develop herself personally and professionally. She is dedicated to excellence and insistence on forward thinking design. At the forefront of her designs is the idea that our spaces have the ability to transform our lives.  She is looking to move us, inspire us to see, think and create freely.  After all, it's not only about creating beautiful spaces.