Up on the blog this week, we take a peek inside the HGTV Dream Home.  This lodge style retreat is located in Whitefish, Montana.  The interior design has been impeccably executed.  So much so that we'd like to transport it to the outskirts of Philadelphia so we can enjoy it ourselves!
This is the place to experience the great outdoors.  The home is set in the mountains of Glacier National Park with a view of the Rocky Mountains and of Whitefish Lake.  Inside, the home gives off the modern ski lodge vibe.  The warm rust tones in the living space help to create quite the cozy feeling surrounded by the most breathtaking views of nature.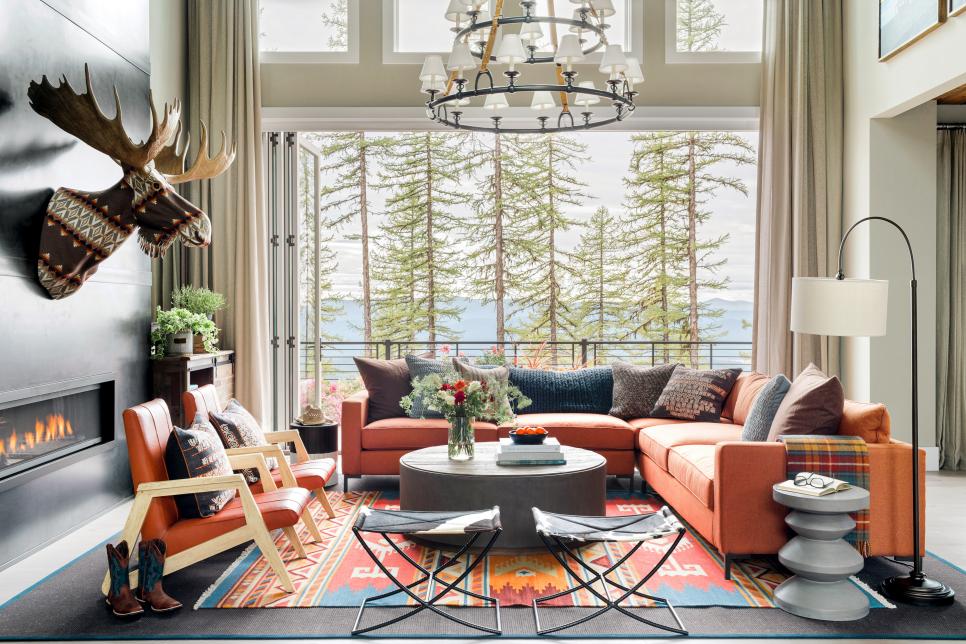 Photo Cred:  HGTV.com
The dining room boasts a tone on tone color scheme that is very inviting.  The antler chandeliers help to set the stage of this stylish space.  We would love to pull up a chair and enjoy a meal here.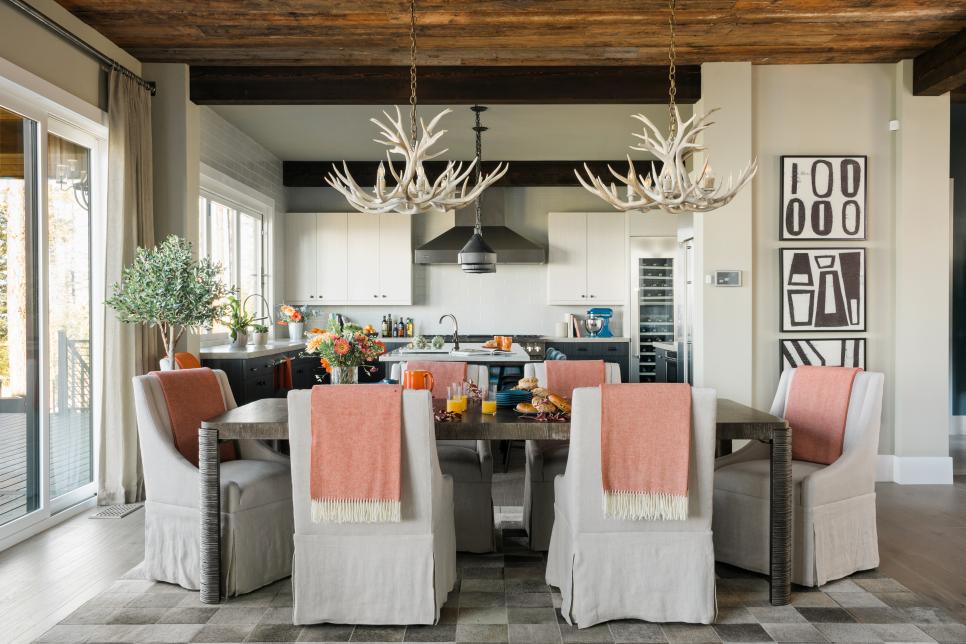 Photo Cred:  HGTV.com
The Kitchen is highlighted in stainless steel which helps to give the space a chef's kitchen feel.  The other finishes of this space are clean and encourage daydreaming outside of the huge picture window overlooking Whitefish Lake.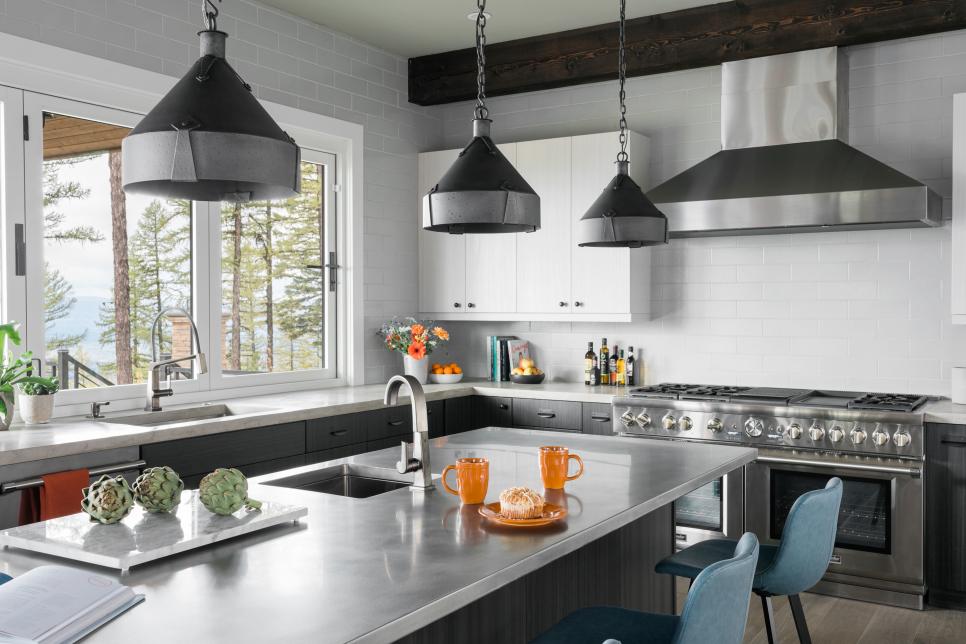 Photo Cred:  HGTV.com
This stunning view from the kitchen through the dining room and into the living room accentuate the open plan concept while highlighting the consistent color scheme and coordinate look and feel.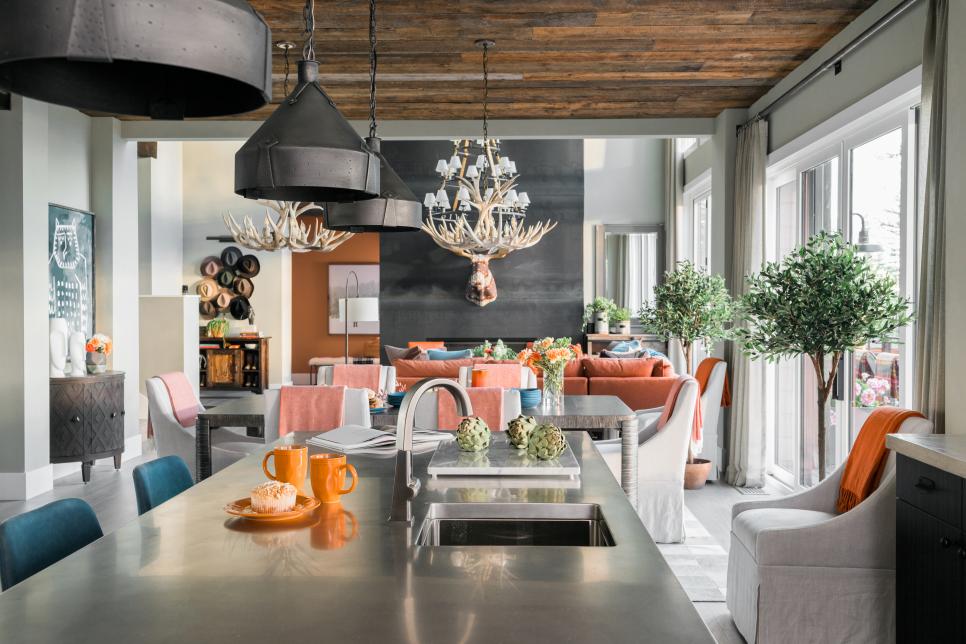 Photo Cred:  HGTV.com
The finished master bedroom is a warm and welcoming retreat.  The iron canopy bed anchors the space that is set with rust and gray neutral tones.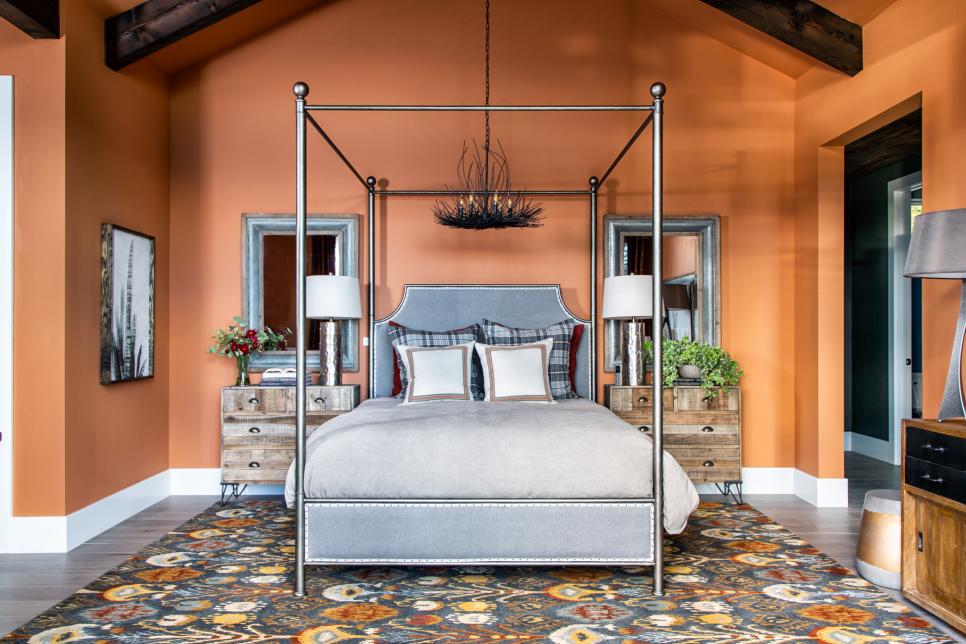 Photo Cred:  HGTV.com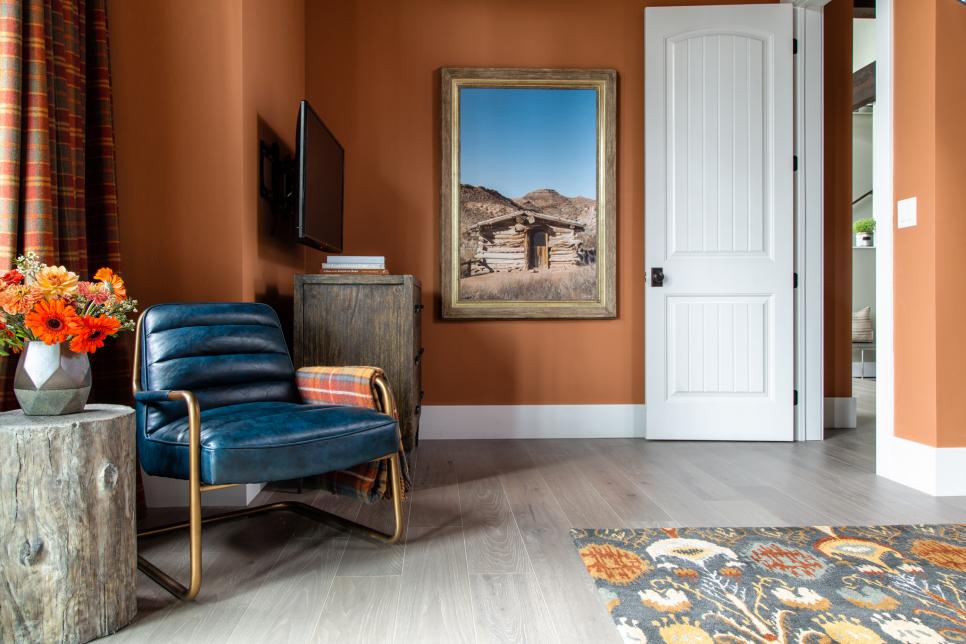 Photo Cred:  HGTV.com
The master bathroom displays an open concept bath and shower area that is modern yet organic.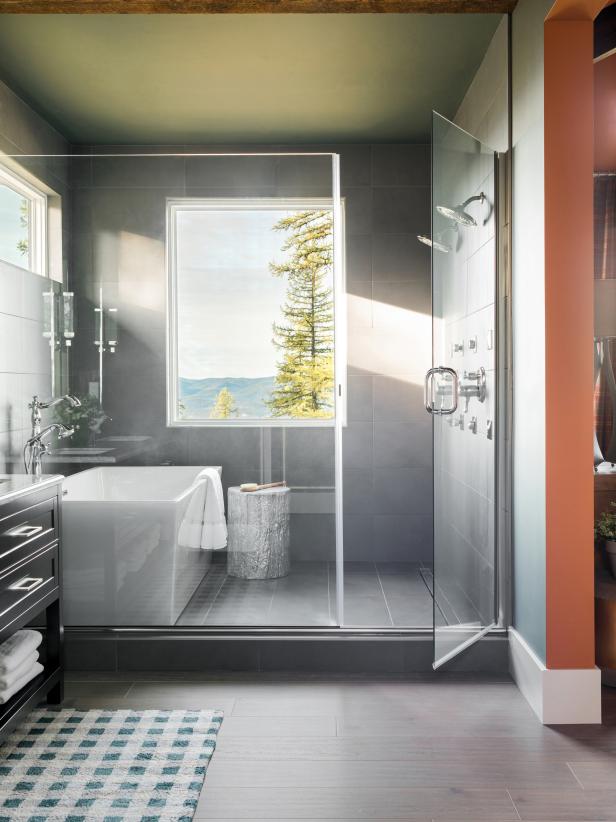 Photo Cred:  HGTV.com
The coziness continues on the second floor with this relaxing nook that helps transition the space.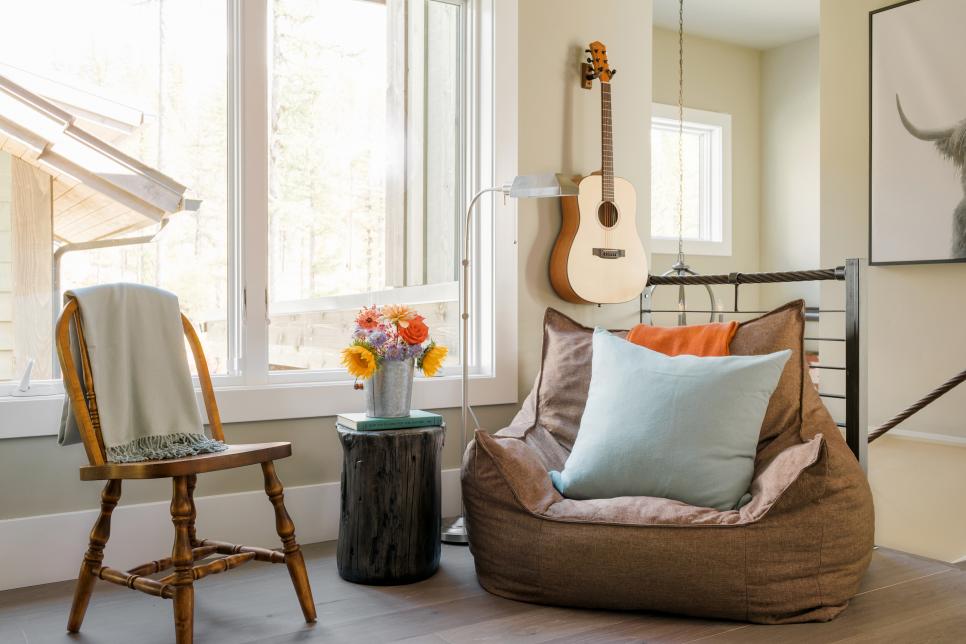 Photo Cred:  HGTV.com
The bunk room is adorable with the rustic wood and iron mountain style.  The patterns paired with neutrals help this space nod to the Western style without feeling kitschy.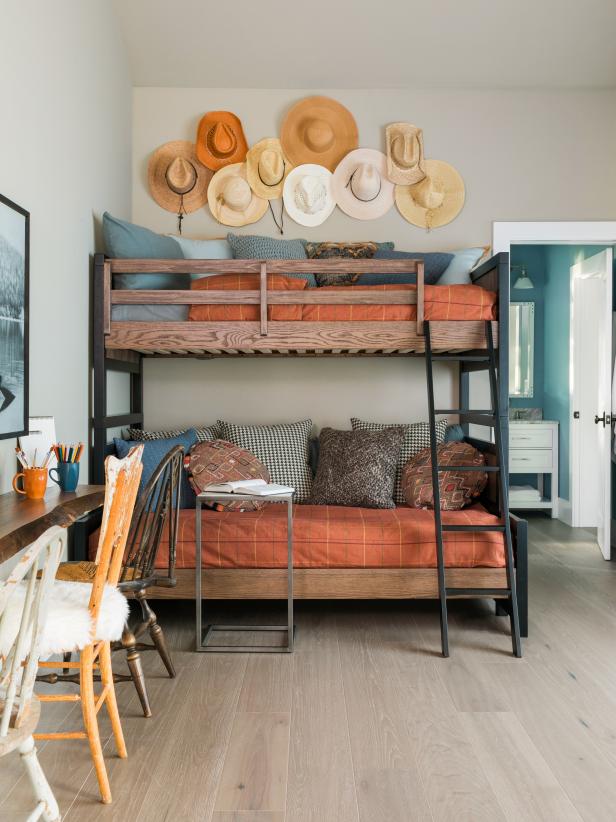 Photo Cred:  HGTV.com
We absolutely adore the "Bonus Room".  What a great room to connect and recharge after a day in the Mountains!  The dark wood walls and the midcentury modern furniture and accessories create a very welcoming vibe.
Photo Cred:  HGTV.com
Last but most certainly not least, we have the outdoor living space.  Complete with an upper deck and a lower patio, this home offers the very best of entertaining in nature.
Photo Cred:  HGTV.com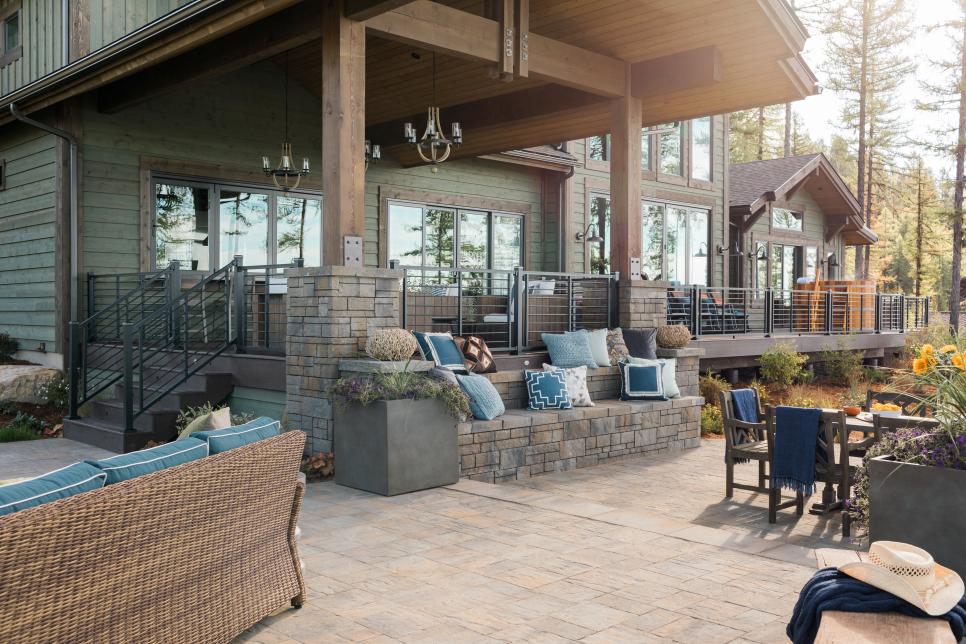 Photo Cred:  HGTV.com