Up on the blog this week, we are showing you ways to recreate your Tropical Escape.  It's all about bringing island living home.  Bringing in tropical elements to the interior of your home can help you relax and remember your beach getaway.
Ok, so a tropical vibe doesn't have to be over the top.  Start with the use of natural materials, such as wicker, rattan, bamboo and teak.  The natural color of cane teamed with crisp whites and off-whites makes for a very soothing and relaxing bedroom scheme. A white backdrop also enables the woven shapes and textures of rattan and cane to stand out beautifully.  In keeping with the natural scheme, the finishing touch is a simple glass vase of palm fronds to bring a hint of the tropics indoors.
Photo Cred
Go tropical with the help of wall covering and fabrics featuring palm leaves, lattice prints and cane motifs.  I love how clean and simple this wall mural feels in a bedroom space. 
Photo Cred
Just want a little touch?  Bring in a tropical pillow.  I love these options from Tropical Homes Decor!
Photo Cred
No need to replace your clean-lined furnishings with wicker pieces! Add a bowl of citrus fruit or a large tropical leaf in a cylindrical vase, and you're set.
Photo Cred
There's no getting around it: the room below is a full-on upscale tropical living space! In this oceanfront penthouse, opulent drapes and traditional furnishings are transported to coastal glam territory with the help of two potted palms.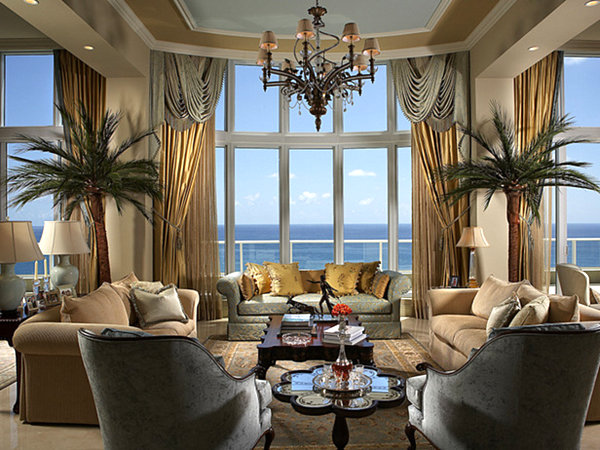 Photo Cred
But don't think you have to go all out to achieve a bold tropical statement. In this next space, modern furniture reigns, yet a few large leaves in contemporary vases give the space a hint of beach-side living!  This can be achieved in the city dwelling or the family home in the suburbs.
Photo Cred
For a modern take on the tropical dining room, I think there are two ways to go.  First go with a bold geometric wallpaper or temper it with a large tropical floral painting.
Photo Cred
Second, go light and neutral with wicker chairs, all white walls and a few natural elements.
Photo Cred
There's nothing like a light and airy tropical bedroom! I absolutely adore all of the sweet touches in this space.  The beach image over the bed, the crisp drapery and the white coral accessory!
Photo Cred
While some rooms stay tropical all year long, others go tropical for the summer! If you want to dabble in tropical interior design but aren't looking for a year-round commitment, replace a few pillows with breezy selections, add some lush greenery, and you're set. When autumn comes, put those tropical accents in the closet and replace them with earth-toned pieces for the new season. For some design enthusiasts, featuring tropical motifs throughout the year is a comforting way to stay warm inside on the coldest of days! Why not make your home feel like a vacation every month of the year!
I'm remembering my tropical escape to Sri Lanka last year.  Here's a view inside the open air villa.
In addition to hospitality design, we also design multi family development projects, other commercial spaces such as offices and retail spaces, and fitness center projects.  We work here in Philadelphia, the main line, the tri state area and Nationally!  If you enjoyed reading this piece please leave a comment and let us know.  AND, let's get social.  Follow us on Instagram, Facebook, Twitter and connect on LinkedIn!
About our Founder
Tina Delia, a native of Ocean County, NJ, current resident of Philadelphia, is the Founder and Principal Interior Designer of Delia Designs. For the past nine years, Tina has been steadfast in her vision and continues to develop herself personally and professionally. She is dedicated to excellence and insistence on forward thinking design.
At the forefront of her designs is the idea that our spaces have the ability to transform our lives.  She is looking to move us, inspire us to see, think and create freely.  After all, it's not only about creating beautiful spaces, it's about touching the lives of the people who live, work and walk through those spaces.
About the Intern
Eleni Palamidis, a native to Philadelphia, is currently a student at Community College of Philadelphia and will be transferring to Moore College of Art and Design in the Fall. She has always had a passion for interior design and creative ventures. While at Moore she will be pursuing a major in Interior Design with a minor in Graphic Design and Business.
Growing up in the Greek community has shaped Eleni to be the person she is today.   She has been fortunate enough to have visited many of the islands in Greece, to which she credits her love for Architecture. Eleni hopes to one day open her own Interior Design studio and continue to do what she loves.