As a follow up to our blog from last week we wanted to help you gather yourself and your home for one of the coziest of Thanksgiving celebrations.  Whether it's for your own table or as a Hostess gift, you are going to "Fall in Love" with these products. (insert winky face)
First up are these beauties.  Anthropologie Home Celine Set of 4 wine glasses.  Who could resist the gold details together with the organic lacing!  Use these at your table and they will be a hit.
Photo Cred:  https://www.pinterest.com/pin/285274957631663900/
If you are looking for something a little more elegant and classic, take a look at the Alice Wine Glasses.  The gold details are so delicate and just darn right pretty!
Photo Cred:  https://www.pinterest.com/pin/285274957631664120/
Something for the Hostess with the Mostess?  These monogrammed, hand carved coasters made of agate stone make the perfect gift.
https://www.pinterest.com/pin/285274957631663903/
Another Hostess gift that could include your favorite bottle of wine, champagne or prosecco is this luxurious Fur Faux Wine Tote.  You won't want to leave the party without it!
Photo Cred:  https://www.pinterest.com/pin/285274957631663926/
Looking for something Glam to add to the table?  Look no further than this Pitcher and Stirrer Set.  Even if all you serve inside of it is lemon water, it is sure to make an impression.
https://www.pinterest.com/pin/285274957631663915/
Because cheese improves the flavor of life, this cheese board will improve your reputation with your guests.  Made of Marble and Brass, this Portina Cheese Board from Anthropologie takes your cheese presentation to the next level.
https://www.pinterest.com/pin/285274957631663908/
 Already have enough cheese boards?  I bet you don't have a gorgeous floral serving plate like these.  They are so pretty, you will not want to fill them!  From couture headdresses and fine jewelry to elaborate window displays and commercial set designs, Jennifer Tran of Papetal crafts stunningly beautiful works of art from paper and simple tools.  Her diverse work has been featured in Martha Stewart Living. 
https://www.pinterest.com/pin/285274957631663910/
 Pair these gilded rim coupe glasses with the Papetal floral plates and you will think Audrey Hepburn is about to join you for dessert.  Handmade in the Czech Republic and gilded with 24k gold, these are your special occasion glasses.
https://www.pinterest.com/pin/285274957631663941/
To round out our favorite picks is the most adorable Livinia Apron.  Fill up your favorite drink tray with the Gilded Rim Coupe Glasses and put on this apron to pull the entire look together.
Photo Cred:  https://www.pinterest.com/pin/285274957631663945/
The Livinia Apron from Anthropologie has coordinating napkins too!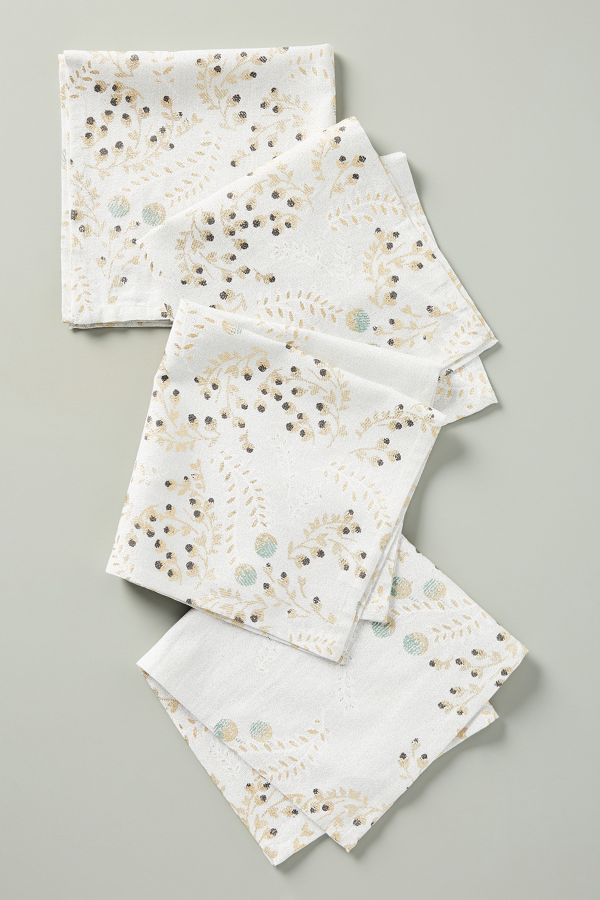 Photo Cred:  https://www.anthropologie.com/shop/livinia-napkins-set-of-4
If you can't tell, I'm over the moon about some of the newest product offerings available at Anthropologie Home.  The Interior Designer's dream location is at 18th and Walnut in Philadelphia.  
Have fun with your Thanksgiving Table this year and send me pictures to let me know how it turned out.
-Tina
About the Interior Designer
Tina Delia, a native of Ocean County, NJ, current resident of Philadelphia, is the Founder and Principal Interior Designer of Delia Designs. For the past nine years, Tina has been steadfast in her vision and continues to develop herself personally and professionally. She is dedicated to excellence and insistence on forward thinking design. At the forefront of her designs is the idea that our spaces have the ability to transform our lives.  She is looking to move us, inspire us to see, think and create freely.  After all, it's not only about creating beautiful spaces.