It's one month out to Thanksgiving so it's definitely time to think about your Tablescape.  Turkey?  Check.  Mashed Potatoes?  Check.  Fabulous table ideas?  Check.....after you read the rest of this blog! 
As an Interior Designer I look for the beauty in every facet of a space.  When it comes to dining, the focal point is the table and as such it should be celebrated and also impeccably designed!
One thing I'm loving for the Thanksgiving table this year is copper.  Whether it is a new shine or a weathered patina, copper is a beautiful, and practical addition to your Fall Style.
Go Vintage and Natural with these copper Moscow mule mugs in place of glass or crystal for your water, cider or wine.
Photo Cred:  https://www.pinterest.com/pin/AcOI0mC0tNPZypOKAbVWMRK4wesD5VQEwNEn0khQ4kPKjZ_oZfHQV4s/
This is a simple effortless look with the addition of the Copper Charger and flatware.  It's Contemporary and Elegant all in one.
Photo Cred:  https://www.pinterest.com/pin/AWwJ3WdSF6018fEjfdj-3GUZ79Fs1KdWoEFlG1OezkPNH0oLl5NU2ac/
I love bringing outdoor elements inside to evoke a rustic vibe, like with this eucalyptus table runner.  Perfectionism is not your friend here.  The more varied the leaves, the more organic the feel.  Add glamour by adding in tea lights down the length of the table set in varying height holders.
Photo Cred:  https://www.pinterest.com/pin/453034043751635015/
Another very natural way to dress your table and give your space a little wow factor is by using lemons and limes.  Something so simple can really be very beautiful and captivating on a table.
Photo Cred:  https://www.pinterest.com/pin/104075441366798408/
Instantly pull your table together with place cards.  Adorned with a variety of elements, show guests to their seats creatively.  Here are some ideas I love:
The ultimate in simplicity is this brown card stock place card and very appropriate for Thanksgiving.
Photo Cred:  https://www.pinterest.com/pin/159314905546002193/
Another simple and elegant idea is to take card stock, either hand print or use your printer to print the names and adorn with rosemary.  So simple and fragrant too.
Photo Cred:  https://www.pinterest.com/pin/Aa9mg039QUe_fflC8k0BgC1jOn3xbF-ZMSFvWt98rT7DHj_go8ExTcg/
Don't have time to get to these details?  Go to Target or order online these gold pumpkin placeholders.  They come with matching place cards.  That's what I call a Target run and Done!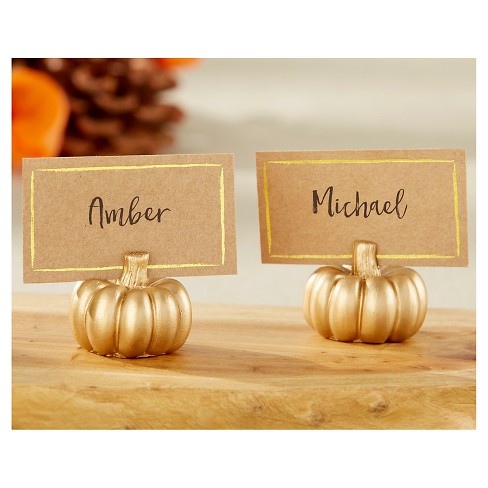 Photo Cred:  Target.com
Plateful of Grateful.
I am leaving you with the ultimate tip to have a more Festive Feast this Thanksgiving.
Pass out cards during dessert and ask guest to write what they are thankful for this year.  Once everyone has read their answers aloud, pack the cards into an envelope or a jar with the date written on it so you can pull them out next year, starting an annual tradition.  
Photo Cred:  https://www.pinterest.com/pin/225883737534130206/
About the Interior Designer
Tina Delia, a native of Ocean County, NJ, current resident of Philadelphia, is the Founder and Principal Interior Designer of Delia Designs. For the past nine years, Tina has been steadfast in her vision and continues to develop herself personally and professionally. She is dedicated to excellence and insistence on forward thinking design. At the forefront of her designs is the idea that our spaces have the ability to transform our lives.  She is looking to move us, inspire us to see, think and create freely.  After all, it's not only about creating beautiful spaces.